Commercial Kitchen Fun: Restaurant Bloopers
October 10, 2018
Making mistakes is part of being human. However, sometimes these mistakes are pretty funny and deserve to be shared with others.
There are many things that may not have been funny at the time, but in retrospect give you a smile and reason to be more gentle with others' mistakes.
Have some fun in your commercial kitchen reading these restaurant bloopers!
A Serious Blow-Up
This blooper is almost too serious to be funny, but the restaurant owner says remembering this experience helps him be more gentle with the mistakes of his young employees.
Here's the story:
"As far as mistakes go, Mannino said he's pretty forgiving. After all, he once was a new employee who made mistakes. He recalls one experience from his teenage years working in the kitchen at his family's pizzeria.
"The pilot (light) went out in the pizza oven and I took too long to restart it and — because of the amount of gas that came out — it exploded, took out the window and almost my face," he said."
Can you imagine? This story will definitely help the staff in your commercial kitchen focus on safety!
Restaurant Sign Mistakes & Humor
Sometimes the things we say don't come out the way we mean it. That's fine and good – unless you're displaying it for the whole world to see on your sign!
I'm sure those in your commercial kitchen will get a laugh out of these embarrassing blunders:
"Eat Here and Get Gas" – at a restaurant gas/station in Indiana

"The shadiest cocktail bar in Bangkok"

"Our wines leave you nothing to hope for." – a Swiss restaurant trying to say their wine was everything you'd desire
Then there are signs that are being funny on purpose – try a few of these on for size!
"Bacon is red, steak can be blue, poems are hard, eat here."

"Eat here or we both will starve." – not an advertising technique we recommend!

"No matter how angry you are, no flicking over tables." – wonder what happened to cause that one?

"If you can fit in ten meows when you order, we'll take 10% off your order. Come in meow!" – that sounds interesting, but it might drive your staff nuts!
Whether it's intentional or not, restaurant signs can be the source of a lot of humor and fun!
Funny Menu Bloopers
Whether from a failure in translation or simply overlooked typos, menu mistakes can be hilarious. Check out these funny menu mistakes that may leave guests expecting something a bit different from your commercial kitchen!
An Indian restaurant offering "erotic spice" instead of exotic spice.

A "desert" menu rather than "dessert." Yum, sand!

"Glutton free" offerings instead of "gluten-free."
Even a minor typo can make it seem like the attention to detail is lacking at your restaurant. Make sure you proofread your menu and correct any mistakes quickly!
Have Fun in Your Commercial Kitchen
Sometimes there's nothing like a laugh to refresh the spirit of the staff in your commercial kitchen. A relaxed attitude can help them be more effective in their work.
Are you looking for some new or used kitchen equipment to make life easier in your Little Rock restaurant? We're here to help. Contact us for a quote today!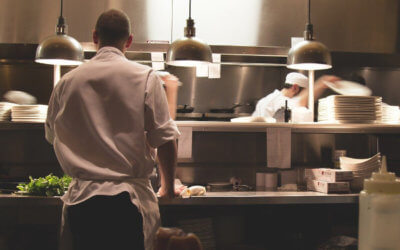 Tipton Equipment Restaurant Supply has a selection of kitchen equipment in Little Rock that will help enhance the menu of any restaurant, deli, or supermarket. Our span of kitchen equipment will help you keep up with growing consumer demand for fresh, high-quality...
read more