Kitchen Equipment in Little Rock
January 15, 2020
Tipton Equipment Restaurant Supply has a selection of kitchen equipment in Little Rock that will help enhance the menu of any restaurant, deli, or supermarket.
Our span of kitchen equipment will help you keep up with growing consumer demand for fresh, high-quality cooked foods. Enhance your hot food program with our specialty-crafted equipment selection, including:
Auto-Lift and Pressure Fryers

Deli Cases and Hot Food Merchandisers

Ranges, Vent Hoods and Fryers

Rotisserie and Convection Ovens

Roller Grills, Flat Grills, and Char Grills

Warming Cabinets and Pizza Ovens
If there's something you need that you don't see, just contact us and we will help you find what you need. Our inventory is always changing and growing and we're also open to special ordering. 
Why You Need the Appropriate Kitchen Equipment in Little Rock
Having the proper kitchen equipment in your Little Rock restaurant will help make your kitchen more efficient which, in turn, means you can turn out higher-quality food faster. One example of how the right kitchen equipment can help is with the turnaround. While no one expects fast-food timing in  a sit-down restaurant, the longer you keep your hungry customers waiting, the less likely they are to return and the more likely they are to tell their friends "the food was pretty good, but it took forever!" 
The difference between a 15-minute wait and a 20-minute wait may seem small, but it can make or break a restaurant. The right kitchen equipment can help you streamline the cooking process and get food to tables as quickly as possible. 
The Right Tools for the Job
We all know the saying "the right tool for the right job" and "you're only as good as your tools." And they couldn't be truer than they are in the world of restaurants. You may be a Michelin Star chef, but how well can you cook with a set of dull knives or an unpredictable, uneven heating element? We know it's completely possible to turn out legendary food in ordinary kitchens – but you have to admit that it's much more difficult. The easier your job is made by your tools, the more time you have to focus on your craft instead of worrying about crappy fryers, broken oven doors, and unevenly heated stovetops. 
Buying the right equipment is an investment, but it's an investment that will immediately and drastically improve your performance and the quality of your food. That's an investment worth making when your number one priority is bringing customers back to your establishment. At Tipton Equipment, we'll work with you to find something that fits your budget. We have a massive gently-used and refurbished selection that may help you get that pizza oven for much less than you'd think. 
Tips for Cleaning Your Commercial Kitchen Equipment
Once you've made the investment in good kitchen equipment, it's important to keep up with cleaning and maintenance. You have to take care of your equipment for it to take care of you. And neglect can cause some costly repairs – which is no fun for us or you. Let's talk about tips for keeping your kitchen equipment like new in between servicing.
Always Read the Manual
This may sound truly basic, but for goodness sake read the owner's manual for your kitchen equipment. It's not going to be a thrilling read but the manuals are full of tips and tricks that you probably didn't know. Even if you've owned a similar model previously, new versions of the product usually have minor differences that make a difference in how you care for them and use them. 
Also – don't forget about us! When you buy equipment from Tipton, we will install and service that equipment post-sale. If you ever have questions or problems with our kitchen equipment in Little Rock, contact us immediately. We'll always do our best to help you solve the problem. We're also up to date on all the recalls, quirks and tricks that go with the equipment we sell because we spend so much time with it! There aren't many suppliers who can say the same. 
Clean Up Spills
Just like momma taught you – clean up that spill as soon as you see it.  This prevents it from baking onto your equipment or – if you spill something corrosive or acidic – permanently staining it. If you spill in your oven, that can affect cooking temperatures and mess with your food prep. So take spills seriously! 
Cleaning the Interior  
Each day, take a few moments to wipe down the interior of your oven, fridge, fryer or grill. Using a mild detergent soap is usually pretty safe, but check the owner's manual (see Tip #1). You want to make sure that your cleaner won't react badly with the surface of your equipment. 
Cleaning the Exterior
You should clean the exterior of your equipment at least once a week. A soft-bristle brush and mild soap (like Dawn) work best on stainless steel. Wiping everything down keeps old spills from contaminating new food and keeps your equipment from becoming stained and looking grimy. 
Deep Cleaning
Deep cleaning of your kitchen equipment should be performed monthly. "Deep cleaning" means something different for every appliance (remember the owner's manual, when in doubt), but it's a good rule of thumb to soak difficult stains, scrub the surface with soap and an appropriate cleaning tool, dry it and then polish! This doesn't just make your appliance look nice (although isn't it more satisfying to cook in a spotlessly clean kitchen?), it also helps keep your kitchen equipment from rusting and falling to general wear and tear. 
If you're in need of professional kitchen equipment in Little Rock, you can visit our convenient to Little Rock location or call us – or just contact us through the site! We'll get back to you as soon as possible and help you find the perfect kitchen equipment for your restaurant.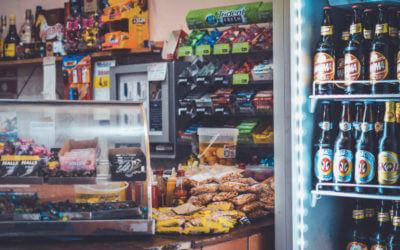 Your convenience store can't just have any old piece of equipment.What's a Convenience Store?  A convenience store is what the name implies; a store of convenience in an easily accessible area where customers usually have a variety of household products, beverages,...
read more