Safety Tips for Your Commercial Kitchen
August 29, 2019
Safety tips for your commercial kitchen to keep it running smoothly and keep disease out.
A well-run commercial kitchen means maintaining the utmost cleanliness and safe conditions for your food preparation. If you were to contaminate an area with Salmonella or other dangerous bacteria accidentally, your customers and employees could get very sick. You also need to know how to pass any checks done by the local health department, so your restaurant can operate with full certification. 
Ask Yourself, Is My Commercial Kitchen Safe? 
Preventing food preparation area accidents:
Do my employees use a stool or footrest to avoid prolonged standing?

Do I make stools and footrests available to my kitchen workers?

Do we rearrange food prep tasks to avoid overreaching?

Do we use mechanical kitchen appliances for chopping, dicing, or mixing foods to avoid repetitive stress injuries?

Do we provide approved uniforms, hairnets, and gloves for our employees?

Do our employees wear uniforms, hairnets, and gloves?
Preventing lifting accidents
Have my workers been trained to lift with their legs not with their backs, whether it is a light or heavy load?

Are workers trained to bring bulky items close to their chest so they can stay balanced and eliminate straining?

Are employees trained to use tilt containers or get help when lifting or pulling fluids or bulky items?

Are my employees empowered to point out safe and proper lifting techniques to fellow employees?

Do supervisors take the lead by setting the right example?
Preventing slips, trips, and falls
Is the kitchen staff trained to mop up spills and wet areas immediately?

Is kitchen, supply areas, freezer floors, and walkways kept free of clutter?

Is the proper ladder training provided?

Do employees know how to use ladders correctly to avoid overreaching and overextending themselves?

Are employees required to wear proper slip-resistant footwear?

Is the kitchen floor swept and mopped each night?
Proper Handling 
All produce needs to be washed and scrubbed thoroughly before being served. Washing can be done right before serving, as some veggies wilt if removed too far ahead of time. Never use soap or bleach on produce. Coldwater is best. A produce brush for harder items like turnips, carrots, or potatoes is recommended.
Conduct Self Inspections
A good commercial kitchen manager conducts regular self-inspections so that he can make sure to spot problems before they get out of hand. Preparation is especially the case since many kitchen inspections conducted by the authorities are conducted unannounced, making it extra essential to stay prepared.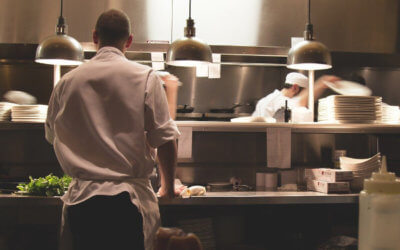 Tipton Equipment Restaurant Supply has a selection of kitchen equipment in Little Rock that will help enhance the menu of any restaurant, deli, or supermarket. Our span of kitchen equipment will help you keep up with growing consumer demand for fresh, high-quality...
read more