What Restaurant Supplies Does Your Café Need?
August 29, 2019
What restaurant supplies does your café need?
Our Pro's Do It All: Provide, Install & Maintain
From soda fountains to most any frozen beverage machine, we offer a fantastic variety of beverage equipment and restaurant supplies. Tipton Equipment is one of the few distributors in Central Arkansas and beyond that can install and maintain your drink fountain or FCB. Same goes for bar equipment, custom draft beer systems, and chillers! 
How Much Space for Restaurant Supplies Do You Have?
One of the most significant investments that go into opening a new café is in the kitchen. A commercial kitchen needs industrial-grade equipment that can withstand busy café use. The layout of a commercial kitchen should allow food/beverages to flow seamlessly from the prep area to the handoff plane.
Sometimes a new café has a fabulous location, but minimal kitchen space, which dictates the kind of restaurant supplies needed. You may want the six-burner gas range with a convection oven, but your kitchen will only fit a four-burner range.  
Where Can You Find Restaurant Supplies?
Restaurant auctions are also a great place to find restaurant supplies for pennies on the dollar. Sales are the right place for picking up small wares like dishware, flatware, bread baskets, condiment containers, and serving utensils.
You can also find good deals on gently used restaurant supplies, like oven ranges and refrigerator units. Be mindful that buying used restaurant supplies is not always your best option since it does not usually come with a warranty. 
Restaurant Supplies Your Café Needs
A general checklist of everything you need to outfit your café kitchen:
Range

Oven

Reach-in cooler

Walk-in cooler

Freezer (either a chest, upright, or walk-in)

Sauté pans

Stock/soup pots

Saucepans

Baking sheets

Baking pans

Tongs

Spatulas

Ladles

Chef's knives

Whisks

Mixing bowls

Plastic inserts for coolers

Steam table

Entrée plates

Appetizer plates

Salad plates

Dessert plates

Metal or plastic shelves for walk-in cooler

Cleaning rags

Cleaning buckets (specifically labeled for cleaning products) 

Rubber floor mats

Hand soap/sanitizer dispenser

Fire extinguisher
Depending on the size of your kitchen and the café concept, you may not need every item. You may need other types of restaurant supplies more specific to your café concept, such as an ice cream maker if you make artisan ice cream, or bread pans if you plan to make bread in-house.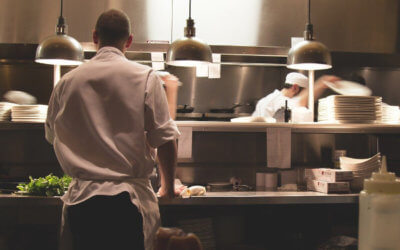 Tipton Equipment Restaurant Supply has a selection of kitchen equipment in Little Rock that will help enhance the menu of any restaurant, deli, or supermarket. Our span of kitchen equipment will help you keep up with growing consumer demand for fresh, high-quality...
read more