Cooking Equipment You Need Today!
August 29, 2019
If you've ever attempted to purchase cooking equipment for a new kitchen or tried to improve the quality of tools in your current kitchen you've found that stocking up on high-quality kitchen essentials is much more complicated than it should be.
Nowadays everywhere we look someone is telling us to buy their product that will supposedly make our lives easier. I'm sure all the following sound familiar:
Cooking TV show hosts recommending their products

Branded cooking sets from your favorite celebrity chef

Kitchen stores stocking unusual, "one-trick-pony" items

Infomercials aggressively selling cheap gizmos

Kitchen websites are promoting every piece as a "must-have."
Instead of making you sort through all the clutter, let's give you a list of the essential cooking equipment every home needs.
An All in One Cooking Equipment Gem
Not all cooking equipment can open worlds of possibility more readily than a stand mixer. With a sound mixer, you can make batter and dough for cakes, cookies, bread, and pastries, beat eggs and whipping cream quickly and even whip homemade marshmallows from gelatin, light corn syrup, and candied sugar. 
Knives
Everyone has that one favorite cooking equipment piece in their home and one favorite knife that never gives you any trouble. Sometimes when you're going for a delicate cut, skip the chef's knife and turn to the paring blade instead. It's perfect for peeling fruits and vegetables, slicing small items like garlic cloves, and deveining shrimp. You can also hold it in the air and peel an apple, eliminating the need to use a cutting board.
Small Ware Cooking Equipment 
If your fingers haven't built up years of heat-resistant kitchen calluses, you're going to need to turn those chicken thighs and toss searing rapini with specific cooking equipment. Get yourself a pair of long (10 inches is perfect), locking, stainless-steel tongs. You want it to lock because it'll stay closed in your drawer.
There is no better flipper than a fish flipper. The flipper is flexible enough to slide under delicate eggs, fluffy cottage-cheese pancakes, buttery sole fillets, and just wide enough so that your food doesn't droop over the sides. The best part is the sharpened front edge: If anything's sticking, a fish spatula will free it.
Silicone spatulas are heat-proof to 500 F, don't go hard and crumbly with aging and are virtually indestructible. They come in pretty colors too. 
A balloon whisk is useful for combining dry ingredients in baking recipes, making lump-free sauces and gravy and, yes, even beating eggs.  
All of the above cooking equipment aside, never forget the power a beautiful set of glass plates and cups have; making your kitchen stand out in the best way.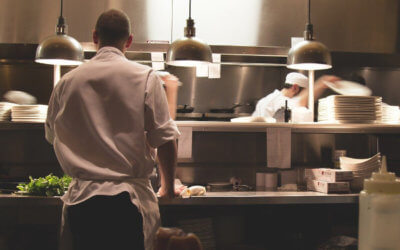 Tipton Equipment Restaurant Supply has a selection of kitchen equipment in Little Rock that will help enhance the menu of any restaurant, deli, or supermarket. Our span of kitchen equipment will help you keep up with growing consumer demand for fresh, high-quality...
read more