Tips for Managing Restaurant Inventory
October 10, 2018
Does the thought of keeping track of every ingredient and piece of kitchen equipment in your restaurant make you want to hide your head under a pillow?
You're not alone. Keeping track of everything is time-consuming and often overwhelming. And you know how much your staff loves performing inventory!
At the same time, though, managing your inventory is vital to keeping costs under control, catching issues before they become major, and ensuring the success of your restaurant.
Here are some ways you can make inventory management easier!
Expand Your Definition of Inventory
Many restaurants track food levels very carefully, but neglect areas like kitchen equipment, supplies, and even customer ordering patterns.

The truth is, you can track all of these items in your Little Rock restaurant. Much of it is done seamlessly behind the scenes when you have the right software in place, but some has to be done by hand.
Tracking your supplies and the state of your kitchen equipment can help you make replacements before something breaks entirely. Just like you want to trade in your car before it completely dies, and you want to replace your stove, refrigerator, or other appliance before they quit in the middle of a rush!
Tracking your customers' attendance and ordering patterns can help you understand your restaurant better. You can spot seasonal trends, stock up on popular items, and cut menu items no one orders.
Take Advantage of Technology
Technology can help you avoid human error, save time, and focus your employees on more valuable tasks. A good point of sale (POS) system can help you track what's sold and when your customers arrive and leave.
Inventory systems allow you to input how much you have, then subtract how much you sell to give you a remaining amount. When you also enter your orders, you'll have a pretty good idea where your inventory stands every day.
Of course, you'll still have to do a physical count to make sure that actual inventory matches the projection. But you don't have to do it as often.
Keep Kitchen Equipment Clean and Organized
From your day-to-day kitchen equipment to your ingredients, everything is easier to track if it's organized and clean.
The best way to keep things in place is to create an "everything in its place" system. When the employees' work tasks create habits to reinforce the system, you can have your inventory clean and organized on a daily basis.
On those occasions when you DO need to do a physical hand-count, it will be much easier and quicker to accomplish when everything is in its place.
Of course, many shifts are busy and chaotic, but a system of setting everything back where it goes at the end of each shift can make it simple to not only do inventory but to run the next shift quickly and effectively.
Get the Equipment You Need Today
We've been serving the restaurants of Little Rock for many years, and we'd love to help you get the kitchen equipment you need as well.
Managing your inventory is about more than food and menu items. Make sure your supplies are topped off and your appliances are in top shape too.
Let us help you find what you need. Contact us today!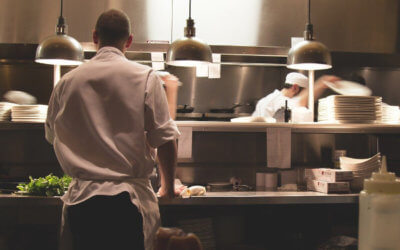 Tipton Equipment Restaurant Supply has a selection of kitchen equipment in Little Rock that will help enhance the menu of any restaurant, deli, or supermarket. Our span of kitchen equipment will help you keep up with growing consumer demand for fresh, high-quality...
read more