3 Tips to Maintaining Your Commercial Kitchen
July 22, 2019
Using a cleaning checklist for your commercial kitchen keeps your facility in top shape and helps employees follow a consistent cleaning schedule. Without this, essential tasks are easily missed, which could cost you when a local health inspector visits your business. 
Starting Off Right 
If there's anything involving the commercial kitchen equipment that you don't fully understand, refer to the appliance's owner's manual or look online for information, guidance, tips, and e-manuals.
Always train employees who will be using the equipment to know and use the best methods, safest procedures, and cleaning habits for each appliance.
One thing that's not just good for maintenance but also required for health codes is a clean and tidy kitchen. Daily cleaning of all appliances should be constant.
Nowadays, many appliances are stainless steel. Be sure to follow some easy but effective steps to clean stainless steel.
Schedule regular maintenance appointments with a professional to keep your commercial kitchen equipment running well and to catch problems early.
Look Down
Most people don't think of their kitchen floor as part of their equipment, but it is the equipment that gets more regular use than any other part of your commercial kitchen. Improper floor care can contribute to a slip and fall that can bring your commercial kitchen's productivity to a halt, leave you short staffed, and cut into your bottom line.
Floors should be cleaned routinely with a quality cleaner designed for commercial kitchen floors. The National Floor Safety Institute (NFSI) offers a list of tested and certified floor cleaning products at NFSI.org. It is crucial to scrub the floors vigorously with a deck brush as part of your daily floor-cleaning routine. Rubber mats and non-slip kitchen shoes will also help improve traction.
Garbage
The way you treat kitchen garbage can affect your business and the environment. By throwing out old food, your dumpster can attract pests and vermin like rats, mice, and flies. Keeping your trash and recycling areas neat and tidy is essential. Make sure that every container has a lid that closes. Limiting your waste may be beneficial to invest in a composting initiative, which breaks down food and organic scraps. Making the shift can reduce costs and environmental impact— at the same time.
Keep your commercial kitchen maintained and running smoothly!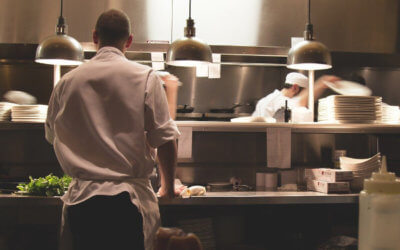 Tipton Equipment Restaurant Supply has a selection of kitchen equipment in Little Rock that will help enhance the menu of any restaurant, deli, or supermarket. Our span of kitchen equipment will help you keep up with growing consumer demand for fresh, high-quality...
read more