4 Ways to Keep Your Restaurant Employees Engaged
March 18, 2019
You can have everything you need to run an amazing restaurant – a great menu, incredible chef, the best location, perfect pricing, and top-of-the-line kitchen equipment.
But even with all of that, you won't succeed if your employees are disengaged and unprofessional.

It can be a big challenge to keep your employees motivated and focused each day, but it's something that has to happen. Your kitchen and front-of-the-house managers are the front line for this – and here's what they can do.
Supply the Right Tools
A lot of the conversation around kitchen equipment has to do with keeping the customers happy. There's nothing wrong with that, but unfortunately, sometimes restaurant owners and managers stop short when it comes to investing in staff needs.
Make sure the kitchen equipment that your employees need to be safe and comfortable is as important as diner-focused choices. For instance, padded mats for employees who stand in one place for a long time can make a big difference.
You also want your employees to have access to the technology they need. You should have booking, ordering, and payment software that makes the jobs of your staff easier.
Provide Training and Encourage Advancement
Is a waiter or waitress at your restaurant in a "dead-end job," or are there opportunities for them to advance? Don't make the mistake of assuming they don't want more.
Almost everyone who has a job is interested in developing their skills and gaining promotions that include higher pay and more responsibility. If you don't provide these options, not only will your employees be unmotivated and disengaged, they'll be very likely to look for other jobs.
See your employees as people with careers rather than people with jobs. Teach them new things about your kitchen equipment. Help them develop, grow, and advance. You might find your next all-star manager when you put time and effort into your greeters!
Encourage Great Communication
Great communication can solve and prevent an untold number of problems. It starts at the top – your managers should always listen carefully when an employee shares with them. Whether it's an FYI about a shift change or a more serious concern, managers should listen, respond, and remember to take action.
From there, encourage good communication between the front and back of the house. A lot of friction between these two staffing groups can be avoided if expectations are clear and problems are resolved quickly.
These great communication habits will naturally carry over to interactions with diners. This can help everything move more smoothly and your customers will leave happier than ever!
Get the Kitchen Equipment Your Staff Needs to Succeed
There's a lot you can do to make your restaurant a great work environment, but it starts in the kitchen. Do you have the kitchen equipment your employees need to take and fill orders, communicate exceptions, and make payment easy?
If not, it's time to take that step forward. Fortunately, we can help. From cooking equipment to smallwares, contact us for a quote today!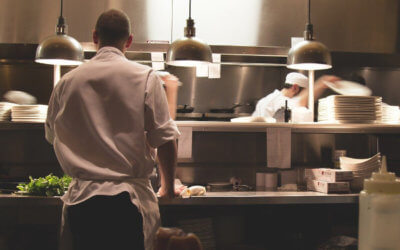 Tipton Equipment Restaurant Supply has a selection of kitchen equipment in Little Rock that will help enhance the menu of any restaurant, deli, or supermarket. Our span of kitchen equipment will help you keep up with growing consumer demand for fresh, high-quality...
read more