Commercial Kitchen Debate: Stainless Steel vs. Non-Stick Pans
August 14, 2018
If you run a commercial kitchen, you probably have a lot of ways of doing things that just seem right to you.
For whatever reason, you decided between a gas and electric stove. You made decisions about dishware.
And you probably have a position on the stainless steel vs. non-stick pans debate.
Are you still undecided or open to looking at the issue? If so, this article will help you weigh the pros and cons of each type of pan.
Stainless Steel: A Breakthrough in Cooking and Eating
Stainless steel certainly cannot be called the original cooking pan, because it wasn't created until the early 20th century. Before that, a commercial kitchen would use copper to cook with.
For the wealthy, silver was used for both plates and dinnerware. Over time, silver plating became more common and the middle class could also use silver.
However, there was a problem – silver had a distinct metallic taste. It was rather unpleasant. It wasn't until a metallurgist called Harry Brearley discovered that stainless steel had no taste that the quest for an affordable metal suitable for eating and cooking was over.
Cooking With Stainless Steel
Today we take stainless steel for granted. In a commercial kitchen, it's extremely versatile. Stainless steel is very durable and can take the many bumps and collisions of a busy kitchen in stride.
This material is a strong heat conductor, offering a better and more consistent heat than other options. These pans can be easily transferred from stove to oven if needed.
You can use metal tools because there is no coating, but they will still damage the finish of the steel, so it pays to be careful.
Finally, many time stainless steel is preferred in a commercial kitchen because it's lighter than other materials, which is helpful when pans are moved dozens of times a day.
However, not everything is shiny and clean about stainless steel pans. They are more expensive than non-stick and can be very hard to clean. They require a lot of upkeep to maintain as well.
The Shift to Non-Stick Cookware
The first non-stick surface in cookware was Teflon, which was invented in 1938 by accident. During World War II it was used in making bombs and was considered a military secret. After the war, Dupont began looking for other applications for their material.
It wasn't until the 1950's that Teflon was applied to cookware. Today, there are a wide variety of coatings that help cooks avoid stuck food and hard-to-clean pans. These include ceramic coating and superhydrophobic coatings.
Many worry that Teflon flakes that come off the pans will cause illness in their customers or family. There's nothing to worry about – the coating is inert and will go through the body without causing a problem.
Benefits of Non-Stick Pans
So should you take up non-stick pans in your commercial kitchen? Maybe! Here are some reasons to consider it.
A non-stick coating can make cooking "sticky" foods much easier and faster. Things like eggs and meat can be created more quickly, which can save time in your kitchen.
If your restaurant is at all concerned with cooking in a more healthy way with less fat and oil, non-stick pans are a great way to accomplish that. Diners are becoming more and more health-conscious, and not being able to cut back on oils due to your cookware can cause them to eat elsewhere.
Clean up time with non-stick is much faster, and the pans are a lot cheaper. This can be a big bonus for a new kitchen or someone who's working on a tight budget.
However, the plastic handles on most non-stick cookware are not oven-safe. You also don't want to scratch the coating using metal or hard tools, because the pans become much harder to clean and can harbor bacteria.
What Do You Use in Your Commercial Kitchen?
Are you a die-hard devotee of either stainless steel pans or non-stick? Or do you use a mix of both?
Using both can be a great way to get the benefits of stainless steel along with the ease of use and low cost of non-stick. Perhaps you have a set of stainless for use on dishes that require both stove and oven, and non-stick pans for the breakfast rush.
No matter what types of cooking pans you use, we'd love to help you find the best deal on them. We are conveniently located in Conway, Arkansas, and we'd love to help you keep your commercial kitchen running smoothly. Contact us for a quote on pans or other equipment today!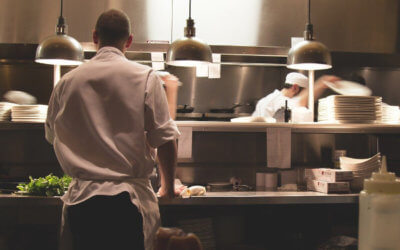 Tipton Equipment Restaurant Supply has a selection of kitchen equipment in Little Rock that will help enhance the menu of any restaurant, deli, or supermarket. Our span of kitchen equipment will help you keep up with growing consumer demand for fresh, high-quality...
read more