Commercial Kitchen Fun: The Wonder of Chocolate
August 13, 2018
If there's anything that almost everyone loves as much as coffee, it's chocolate.
In fact, there are multiple celebrations of chocolate each year.
Chocolate Day is on July 7th, because historically that's when chocolate was first brought to Europe in 1550. Don't miss National Milk Chocolate Day on July 28, International Chocolate Day on September 13, or National Bittersweet Chocolate With Almonds Day on November 7.
With all of this celebration of chocolate, we thought we'd bring some commercial kitchen fun by sharing even more interesting facts about this goody.
It Takes a Lot of Cocoa Beans
Making one pound of chocolate takes 400 cocoa beans, and one person can harvest an estimated 22,000 per day.
Nearly 4.6 tons of cocoa are produced annually, and 65% of it comes from African nations. The two largest producers, the Ivory Coast and Ghana, are growers of almost half of the world's supply.
Americans consume 9.7 pounds of chocolate per person each year, and that's not even top of the list! The Swiss come in first, eating 19.4 pounds per person.
Supplying the world's chocolate habit requires a lot of work in a lot of commercial kitchens – and a lot of cocoa trees!
You Can Win Trust With Chocolate
One of the largest diamond heists in history was accomplished with a bit of chocolate. Over time, a man who went by the name of Carlos Hector Flomenbaum won the trust of the employees at ABN Amro bank in Antwerp's diamond district.
He would chat up employees and regularly bring them boxes of chocolates. He eventually won so much trust that he was given VIP access to the vault. This involved receiving a key so he could access his diamonds at odd hours. Sometime between March 2 and March 5, 2007, he went in and emptied five deposit boxes of uncut diamonds worth $28 million.
It just goes to show, if you want to win favor in a bank – or a commercial kitchen – bring the chocolate!
Chocolate Was Originally Consumed as a Drink
For nearly its full history, chocolate has been a drink, not a candy. It may have even been an alcoholic drink, using the fermentation of the white pulp around the bean.
The first evidence of drinking chocolate comes from Mexico as early as 1900 BC. There are glyphs that indicate the Mayans were drinking chocolate as early as 400 AD, and Aztecs imported it into the highlands in the 15th century.
The Spanish were the first to add sugar to the chocolate drink, and plantations sprouted up everywhere as European conquest spread. Cocoa butter wasn't introduced until the 1800's, and in 1847 Joseph Fry discovered how to make chocolate bars.
Many People Have Been Paid in Chocolate
The obsession with chocolate is not just a desire for dessert. In fact, throughout history, many, many people have been paid in chocolate.
The Aztecs used cocoa beans as money, as well as to produce their favorite drink. In the Revolutionary War, soldiers were often paid by having chocolate in their rations, instead of receiving actual money.
Finally, the inventor who created the chocolate chip cookie in the commercial kitchen of the Toll House Restaurant in 1938 was paid in chocolate. Ruth Wakefield gave Nestle the right to use her cookie recipe and the Toll House name in return for $1 – and a lifetime supply of chocolate.
Ready to Get Some Chocolate Moving In Your Commercial Kitchen?
From the king's palaces to humble Mexican homes, chocolate has been a cherished food for thousands of years.
Of course, like all food, chocolate has to be handled properly. Do you need a better oven, a new double boiler, or other kitchen equipment for your commercial kitchen? If so, we'd love to help. Contact us for a quote today!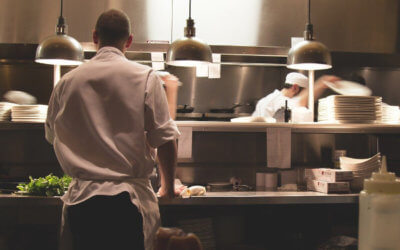 Tipton Equipment Restaurant Supply has a selection of kitchen equipment in Little Rock that will help enhance the menu of any restaurant, deli, or supermarket. Our span of kitchen equipment will help you keep up with growing consumer demand for fresh, high-quality...
read more