Kitchen Hacks for Your Home
December 30, 2017
Some people are naturally good at certain skills.
We all know someone who is naturally book smart, athletic, or musically inclined. What makes you jealous of them is how easy they make tasks seem compared to you. One skill might be cooking. Your dream may not be working in a commercial kitchen as the head chef, but you at least want to be able to prepare a nice meal every once in a while. So Tipton Equipment Restaurant Supply is here to help with some basic kitchen hacks to increase your productivity, and feel like a natural in the kitchen.
Clean as You Go
In a commercial kitchen, everything is streamlined. It is clean, it is efficient, and it's fast. But how would you get this same feeling of accomplishment at home? One kitchen tip is to clean as you go. This helps reduce the clutter on your countertops. Sure you could save all the cleaning for last, but it's hard to clean when the dishes are stacked to the faucet. Start with an empty kitchen and an empty dishwasher. When you're done with a dish it goes straight from the stove to the sink, and then back to the dishwasher. A clean commercial kitchen feel brings a happy heart.
Ketchup Squirt Bottles
Picture an old diner. The one with the waitresses in yellow aprons, and the phone on the wall with the long cords. Now that you have that in mind, you can imagine the ketchup squirt bottles. Come by Tipton Equipment Restaurant Supply and grab a couple of these same squirt bottles for a creative kitchen hack. Not only are they perfect for ketchup, they're perfect for other liquids like cooking oil. Try using one the next time you have to coat a pan with oil.
No More Crying Over Onions
Looking for ways to not shed some tears from cutting onions? Try some of these tips, and let us know which one works best for you. A unique and unorthodox way is freezing the onion. The myth about chewing gum while cutting an onion is that chewing gum will force you to breathe through your mouth. Wearing swimming goggles will protect your eyes from irritation. It might not be professional to wear goggles in a commercial kitchen, but no one is going to judge you in your own home.  You can also cut an onion underneath a running fan or kitchen vent.
Use Hanging Baskets to Save Room
Is your kitchen far from the size of a commercial kitchen? Use hanging baskets to add extra storage. It gives you the opportunity to add more space, while giving personality. It is perfect for fruits and vegetables.
Taste Your Food as You Cook
You don't have to take huge bites from the meal you're preparing, but small bites might not give you an accurate taste. And an accurate taste is what we're aiming for. This way you can adjust your seasoning accordingly. But don't worry. This is based on trial and error, and with time your skills will sharpen.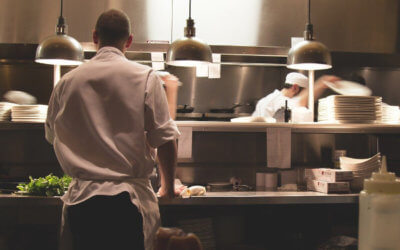 Tipton Equipment Restaurant Supply has a selection of kitchen equipment in Little Rock that will help enhance the menu of any restaurant, deli, or supermarket. Our span of kitchen equipment will help you keep up with growing consumer demand for fresh, high-quality...
read more