Tipton's Guide to Perfect Poultry Trussing
January 25, 2018
Do you ever truss birds in your commercial kitchen?
Trussing is a fantastic cooking technique because it makes poultry cook faster, look more attractive and taste better. If your commercial kitchen prepares poultry, you don't want to miss these trussing tips.
Trussing has multiple benefits for your commercial kitchen and your customers. The technique involves using skewers or string to tightly seal the bird's cavity and keeps its shape while it cooks. Not only does this prevent the poultry from drying out, it also improves the presentation of the bird. The poultry maintains a more attractive shape, and when done right, the steam generated will puff out the bird's skin, giving a very attractive look.
A beautifully-prepared bird can turn a traditional family meal into something even more magical. I want to give you my top tips for trussing in your commercial kitchen.
For this technique, you can choose to use either string or skewers. String works just as well as skewers, but most commercial kitchens choose to use skewers because they can reuse them for many years. So, without further ado, here's how you can use skewers in your commercial kitchen for an exceptional trussing job.
First, you want to thoroughly clean your bird and pat it dry. Prepare the cavity of the bird as desired, by stuffing it, rubbing herbs on the inside, or leaving it untouched. With the bird's breast facing up, pull the wings over the skin of the neck, and tuck them under the bird's shoulder. Now, fold the neck skin over the opening. Use a skewer to keep it in place by threading it through the skin multiple times, just like you would if you were stitching fabric. Lastly, push the legs up against the bird's body. Tuck in any extra skin between the thigh and the breast. Cross the bird's legs and secure them with a skewer.
In a commercial kitchen, you always want to check your work to ensure your customers have the best experience. Have a look at your trussed bird. The wings should be stuck behind the bird's shoulders. The cavity should be tightly closed. The legs should be held close to the body. Once you've checked this, your trussing is a success!
One more note regarding the use of metal skewers in your commercial kitchen: they get hot during cooking. Use care when removing them. Now, present your moist, attractively cooked bird to your customers. They'll love it!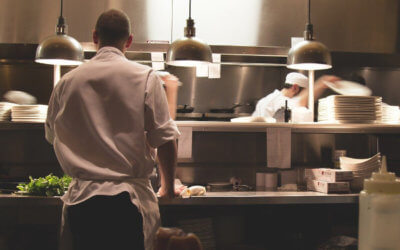 Tipton Equipment Restaurant Supply has a selection of kitchen equipment in Little Rock that will help enhance the menu of any restaurant, deli, or supermarket. Our span of kitchen equipment will help you keep up with growing consumer demand for fresh, high-quality...
read more