How do You Compare to a Commercial Kitchen?
November 14, 2017
How do you think your home kitchen stacks up against a commercial kitchen?
We know you're the master chef at home, but do you think you can enter the big leagues in the back of a restaurant? You've seen every Food Network show, you've been mixing it up in the kitchen since you were able to hold a spoon, and you're confident that could handle it! To dive deeper into this debate, we're going to change it up a bit.
From the Kitchen to the Garage
To put this in perspective, we can compare your kitchen to vehicles. Let's say your home kitchen is a beautiful sports car, while a commercial kitchen is a minivan.
Your sports car is what you like to show off, what you like to drive for fun, and what you cruise down the highway on. What you lack in traditional convenience, you excel in luxury. Sure you might not NEED imported leather interior with seat warmers and the newest state-of-the-art GPS system, but you definitely deserve it with the hard work you've put in. Although you can't have more than two passengers in your car, your friends will always be asking you for a ride. Now when you look at your minivan, you see the functionality of it. You can transport 7, maybe 8 people comfortably. It's a smooth ride, and you have a great view of the car and everything around it. Not only do you have a rear view mirror to see cars behind you, you have a mirror to see everyone in the back. Oh, and does your sports car have automatic sliding doors AND space for junk in the trunk? Didn't think so.
Going Back to Kitchens
It was difficult trying to make a minivan sound cool, so luckily making a commercial kitchen sound cool is much easier. Your home kitchen is what you invest hours in, renovating your kitchen to your aesthetic pleasures. You have granite table tops, beautiful islands, and a rotating oven that also serves as a towel heater. But a commercial kitchen is there to accommodate cooks, servers, and anyone else headed to work behind the scenes of a restaurant. Even though it can be compact on the outside, inside there are appliances that are multi-functional last a lifetime. It can accommodate more volume, the material is tougher to stand longer wear, and the equipment is bigger and stronger to keep up with the fast pace of a restaurant.
Your kitchen at home is nothing to be ashamed of. It can be as luxurious as a sports car or as humble as a used sedan, but the person who knows it best is you. You won't be able to make six different meals at once, but you also won't have to deep clean your oven every week. And maybe one day you'll be able to make your way back to a commercial kitchen and show everyone who the new head chef is (hint: it's you).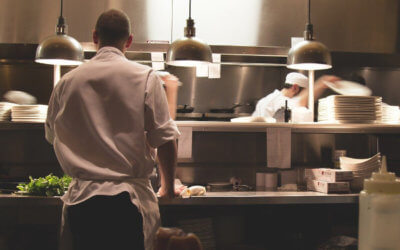 Tipton Equipment Restaurant Supply has a selection of kitchen equipment in Little Rock that will help enhance the menu of any restaurant, deli, or supermarket. Our span of kitchen equipment will help you keep up with growing consumer demand for fresh, high-quality...
read more