The Cast Iron Skillet is Your Tool for Social Media Videos
December 1, 2017
No matter where you go on social media, you will come across a food video.
It doesn't matter if it's Facebook or Instagram, you will see a delicious meal that you will eat in your head, but never make it in reality. If you are present in any social media, than you have probably come across a food video. And more than likely the cooking equipment used in these videos are cast iron skillets. Here at Tipton Equipment Restaurant Supply, we want to help you master the first step in replicating food videos at home. And that is getting you started with your own cast iron skillet.
When You First get the Cast Iron Skillet
When you get a cast iron skillet, it doesn't matter if it is brand new or used, you have received one of the most important cooking equipment you can get. Cast iron skillets can survive throughout the ages, because it is practically one big piece of metal. A properly seasoned skillet is something that is envied, but the general population views it as intimidating. We're here to walk you through the steps.
You have heard never to wash a cast iron skillet with soap before. Well you're going to break this rule this one time. Use steel wool and mild dish detergent and scrub the entire surface of your cooking equipment, including the sides, underneath, and the handle. Now that you have given it a good scrub, rinse it off with warm water and a sponge to make sure any rust or gunk is off the pan. You can dry it off with a towel, but to really make sure you have gotten all the water off place it on the stove and turn it on. The heat will evaporate any moisture left on the skillet.
Seasoning Your Cast Iron Skillet
Now it's time to season. Before you start, preheat your oven to the hottest setting it can go to. We recommend around 400 degrees. Coat your cast iron cooking equipment  with a tablespoon of canola oil. Using a clean paper towel spread an even coat around the whole surface like you did previously. Use another clean paper towel to wipe off any excess oil.
Now that you have a nice coat of oil, place it on the top rack of your already preheated oven. If you want to be on the safe side, place aluminum foil on the bottom rack to catch anything that drips. You will need to let it bake for an hour, and then let it cool as well for it to transform into a prized cooking equipment. The end results should be a nice glossy finish.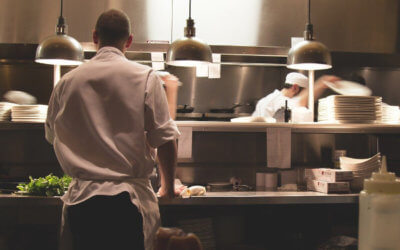 Tipton Equipment Restaurant Supply has a selection of kitchen equipment in Little Rock that will help enhance the menu of any restaurant, deli, or supermarket. Our span of kitchen equipment will help you keep up with growing consumer demand for fresh, high-quality...
read more