Cleaning your Commercial Deep Fryer Made Easy
June 9, 2017
A commercial deep fryer requires daily cleaning to keep the appliance in perfect working condition.
However, cleaning the restaurant's deep fryer is one of the most dreaded tasks for many restaurant workers. Who could blame them? The process of cleaning a deep fryer can be messy, especially if you don't do it very often.
Although it may take longer than washing dishes, cleaning your deep fryer frequently before serious residue builds up will make it much easier to clean. If your deep fryer is in frequent use, every few days it should be cleaned and the oil should be changed. Otherwise, if your deep fryer is not being used often, you can simply clean it each time you use it. No matter how frequently you get to clean your appliance, it requires the same procedure. Therefore, this is a guide to make cleaning easier for you.
Unplug the Deep Fryer
Always unplug your deep fryer before you clean it. To avoid burns, always let the deep fryer completely cool down before cleaning it. Let it cool down on its own. Do not put water in with the hot oil – it could explode.
Drain the Oil
Drain the oil into a filtration bin or a food safe container. Close the container by sealing the lid, and keep the oil a cool place if you plan to use it again. Throw the oil away in a container with a tight seal if it is not useful anymore. Most people know that oil can clog a drain, but be sure to advise your employees not to pour the oil down the sink – just in case.
Remove the Utensils and Baskets
The tongs and deep fry baskets should be cleaned separately from the commercial fryer itself. Put them in the sink with some dishwashing liquid to soak before cleaning.
Wipe the Remaining Oil off the Pot
To remove the oil and stuck-on food from the deep fryer pot, simply wet a sponge or some paper towels and wipe the grime off. Some food can be quite stuck on, so you might to use a spatula or scraper to remove it.
Boil Water
Put water into the vat and mix it with a cleaning solution as recommended in your manual for a boil out.  Bring that vat of water to a boil, letting it coax off any remaining food particles.  Unplug the deep fryer and let it cool down before draining the vat into a separate container. Rinse everything out.
Wash the Basket
Using warm water and a scrub brush, the basket can be rinsed clean, doing away with food particles. Remove the soap by rinsing the basket, and soak up the water with a paper towel.
Refill the Deep Fryer with Oil
After making sure the water has been completely drained out from the deep fryer, refill the vat with your preferred oil. And you're done.
Cleaning your deep fryer doesn't have to be a serious chore. Don't let it get dirty and your customers will thank you.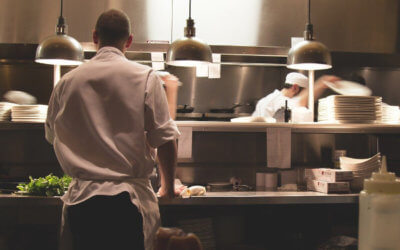 Tipton Equipment Restaurant Supply has a selection of kitchen equipment in Little Rock that will help enhance the menu of any restaurant, deli, or supermarket. Our span of kitchen equipment will help you keep up with growing consumer demand for fresh, high-quality...
read more