How to Crash the Dine and Dash
June 1, 2017
Any business that sells physical products is subject to the occasional theft. So do restaurants, but it's just called dine and dash. 
Those who dine and dash take advantage of the fact that they receive their purchase before they pay, rather than after. In many restaurants, it's easy to just walk out without paying the bill. Staff might assume that a dine and dash has already paid, or that she is simply on her way to visit the washroom, before they realize their customer has slipped out the door. When a restaurant is busy, it is also possible that staff might not even notice a customer leaving before it's too late.
Dine and dash doesn't just cause the restaurant to lose out on the money owed them for that meal. It is also frustrating and demoralizing for staff, especially when they put a lot of effort into serving the customer with care. It's distressing to find out that, rather than getting the tip they expected, the customer has chosen not to pay at all. There's nothing like being wronged to put someone in a bad mood, and that can affect the service your customers receive.
Dine and dash can be a serious problem. So what can be done about it? Here are a few simple tips to reduce theft in your restaurant.
Always Keep an Eye on the Front
There should always be an employee at the front of the restaurant to welcome each customer and thank them when they leave. Most  people who dine and dash will not be brave enough to walk past an employee's gaze without first paying the bill.
You may already have a host or hostess, but if he or she is away from the front for just a brief amount of time, a dine and dash can slip past. If your host often carries out duties away from the front, review your system and identify where those tasks can be automated or done by someone else. For an added level of security, you can require that all customers pay at the front before leaving.
2. Build Rapport
Great customer service is not just about bringing customers to your restaurant. When you build rapport with your guests, they will come to like you, and people are less likely to wrong someone they like. Make sure every person a guest comes into contact with makes an effort to create a personal connection with that guest. Even if it doesn't deter a dine and dash, your paying customers will love it, so you can't lose!
Remember the Culprits
When a dine and dash does occur, talk to your staff and record everything you know about him. Instruct your employees to look out for the culprit in the future. If someone who dine and dash returns, you can then choose to either keep a close eye on him or refuse him service.  
Remember to keep safety first. If you don't have a security detail, do not let your staff members physically confront a dishonest customer. Follow these preventative tips, and with any luck, you will see a reduction in dine and dash theft in your restaurant.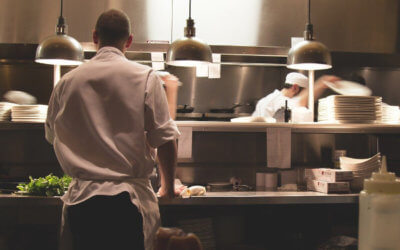 Tipton Equipment Restaurant Supply has a selection of kitchen equipment in Little Rock that will help enhance the menu of any restaurant, deli, or supermarket. Our span of kitchen equipment will help you keep up with growing consumer demand for fresh, high-quality...
read more