5 Tips for an Ergonomically Sound Restaurant
June 1, 2017
The physical environment of your restaurant should not only be appealing to customers but also be comfortable and safe for your employees.
Due to the repetitive motions that characterize the job description of restaurant employees, there is a potential for musculoskeletal injuries. Ergonomics is the practice of providing a work environment that  minimizes the risk of such injuries. To make an ergonomically sound restaurant for your employees, consider implementing the following.
Ergonomically Sound Restaurant Tip:  Use Push Carts for Serving
Tray carrying can cause pain in the arms and wrists. As much as possible, reduce tray carrying and use carts instead. Arrange the interior of your restaurant in such a way to allow easy movement of carts. If you choose not to use carts, teach your servers to use both hands to carry plates and trays. Whenever large parties are to be served, more hands should be involved. These measures will help prevent straining of the wrists.
Ergonomically Sound Restaurant Tip: Provide Anti-Fatigue Mats
To prevent discomfort and fatigue of employees' feet, legs and lower back, providing anti-fatigue mats in areas where employees stand for long periods of time. You should also consider padded floors, especially in the kitchen, where most tasks are done while standing. Softer surfaces will take some of the pressure off employees' feet, reducing discomfort and injuries.
 Ergonomically Sound Restaurant Tip: Make Cushioned Insoles Mandatory
Any employee on duty should be required to wear shoes with cushioned insoles. This will reduce the occurrence of the foot and leg pain that is common with repetitive standing movements. If possible, shoes should be provided to increase compliance with your restaurant's footwear policy.
Ergonomically Sound Restaurant Tip: Use Knives the Right Way
Dull-edged knives make it necessary for your cooks to use extra force when cutting foods. This adds to the physical strain of knife usage. Kitchen knives should be sharpened often to prevent unnecessary use of force. Also instruct your kitchen staff to use the appropriate knives for the type of food they are cutting, and to never cut foods without using a cutting board.
Ergonomically Sound Restaurant Tip: Encourage healthy behaviors
Encourage your employees to take care of their musculoskeletal system by drinking enough water. They should also be provided with mandatory stretch breaks. A restaurant can be a fast-paced and exhausting environment, but encouraging regular exercise outside of work can keep employees more physically fit and help their bodies withstand the pressures of the job.
As a restaurant owner, it is your responsibility to ensure the safety of your employees. In addition to providing the proper equipment and restaurant design to reduce ergonomic sound restaurant issues and safety hazards, proper training on work organization, safe performance of tasks and handling of emergency situations should be provided. Proper ergonomics will have  your employees performing at their best and reduce absences and injury lawsuits. It is an investment well worth making.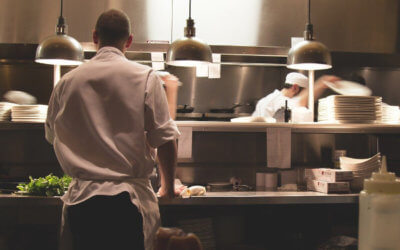 Tipton Equipment Restaurant Supply has a selection of kitchen equipment in Little Rock that will help enhance the menu of any restaurant, deli, or supermarket. Our span of kitchen equipment will help you keep up with growing consumer demand for fresh, high-quality...
read more