5 Steps to Cutting Food Waste from Your Kitchen
August 15, 2017
Food waste is a problem around the world.
Taking steps to prevent food waste in your kitchen doesn't just make your restaurant more morally strong; it can also help you save money on ingredients and attract more customers. Here are some steps you can take to reduce food waste in your kitchen.
1. Track Your Food Waste
Tracking is the first step because it shows you whether you are making progress on reducing your waste. It also helps you to find out where the waste is coming from. Create a team that specifically looks for food waste at the end of each day. Also ask staff members to take notice of where the most food waste they see is coming from.
Your team is your best asset.
2. Educate Your Staff
You know how we said your team is your best asset? Well, they can't be your best asset if they don't know what is going on or how they can help. Educating your staff on the benefits of reducing food waste and what they can do to help will get them ready to be a part of the operation to cut your food waste.
3. Start Composting
Composting turns food waste into healthy soil additive. Many cities have started programs where residents and restaurants alike can compost. You simply separate all your food waste and send it to a compost facility. If your city doesn't offer it, there are private companies and farms that will accept food waste to help them create fertile soil.
Composting allows your food waste to go towards creating something productive.
4. Incorporate Leftover Food in Meals
If you find you have a bunch of vegetables left over during the day, consider throwing them into a soup and serving it as a special. Adding some flexibility to your menu items can also give you the freedom to use foods that otherwise might end up in the trash. For example, having a salad on your menu that includes "seasonal vegetables" allows for different variations of the same menu item, allowing you to get more out of your kitchen ingredients.
5. Measure Types of Food
Sure, you have food waste, but what kind of food waste do you have? Is it lettuce scraps? Unused pasta? Knowing what type of foods you have left after a day of hard cooking lets you know what you can do with it. Is it food you could incorporate into other meals? Is it inedible and needs to be composted? Is it something you could provide to those who are homeless?
By measuring your food waste and separating it, you can determine what needs to be done.
Properly reducing and reusing food waste will help your restaurant become more sustainable. It will also attract the crowd of diners that appreciates the fact you are doing your best to help the environment.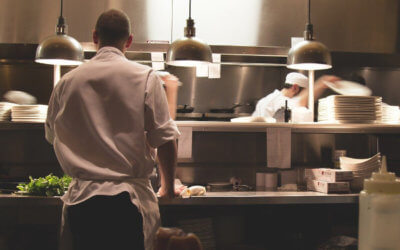 Tipton Equipment Restaurant Supply has a selection of kitchen equipment in Little Rock that will help enhance the menu of any restaurant, deli, or supermarket. Our span of kitchen equipment will help you keep up with growing consumer demand for fresh, high-quality...
read more