5 Different Ice Shapes and Why You Should Care About Them
February 13, 2018
Ice makers are very popular in the restaurant and foodservice community because they eliminate the need to buy ice every day.
And of course, adding an ice maker to your collection of foodservice equipment means you will always have ice on hand when you need it. An interesting note about ice makers is that they are capable of producing ice in several different shapes. Each ice shape has different uses in restaurants, convenience stores, and many other facilities that serve cold food or beverages. Today, we are going to examine the top 5 shapes of ice that can be produced by the handy piece of foodservice equipment known as the ice maker. We'll let you know how to best take advantage of each of them and choose an ice maker that produces the best ice shape for your business.
1. Cubed Ice
Cubed ice is, unsurprisingly, one of the most common types of ice produced by ice-making foodservice equipment. Many food servers enjoy the use of cubed ice because they work in any drink and they are slow to melt. However, they are bulky in nature, taking up more space than other ice shapes. This is certainly a consideration when choosing foodservice equipment.
2. Half Cubes
The primary use of half cubes is for iced coffee and iced tea, because they take up less room in a glass. Because a half cube is still relatively bulky, it takes a fair amount of time to melt, but takes less time than cubed ice. The smaller size allows it to pack a bit more tightly and fit into places that cubed ice will not.
3. Ice Flakes
Ice flakes are a good choice for any time you need to have food directly on ice. Ice flakes keep food hydrated and cold for as long as possible. Flaked ice is also good for any kind of blended drink, because it is soft and flaky, and will not damage the blender. Ice flakes pack together very well, so you can fit more ice in a container.
4. Crescent (Half-Moon)
Crescent ice (also known as half-moon ice) is shaped like pieces of cylinders, and is great for almost all ice usages. When pouring drinks, liquid easily passes over and between crescent ice, which helps prevent splashing. Crescent-shaped ice is a great choice for those who are looking to add an ice maker to their foodservice equipment.
5. Gourmet Ice from Foodservice Equipment Ice Machines
For foodservice equipment in higher-end restaurants, gourmet ice might be your go-to solution. Gourmet ice has a unique look and can come in several different forms. It usually looks like a cylindrical ice cube with a hole in the middle. Gourmet ice does not dilute flavor as quickly as other ices.  However, you may not want to use gourmet ice if you're low on storage space.  
Selecting foodservice equipment that produces the right kind of ice cubes might be difficult at first. There are many different options out there. But now that you have read this list, you should have a better understanding of the types of ice that can be produced an ice maker – an essential piece of foodservice equipment in many restaurants and locations that serve drinks.  We wish you the best of luck with your foodservice equipment choice.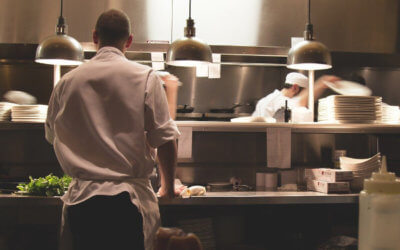 Tipton Equipment Restaurant Supply has a selection of kitchen equipment in Little Rock that will help enhance the menu of any restaurant, deli, or supermarket. Our span of kitchen equipment will help you keep up with growing consumer demand for fresh, high-quality...
read more