Going Green Can Benefit Your Commercial Kitchen
August 13, 2018
Do you feel like running a restaurant means that you have to give in to wasted food, materials, and even money? Great news – you don't.
If you want to build your business, consider going green! You can structure your commercial kitchen to help the planet while also benefiting your restaurant. Here are some tips that can help.
Use as Many Energy Efficient Appliances as Possible
You probably don't have the money to upgrade every appliance to an Energy Star model, although you might wish you did. Instead, think about resourcefully upgrading the ones that use the most energy.
You can get very high-quality used equipment that will help you save money up front, and then your reduced energy spending will help keep the costs of your commercial kitchen lower.
Beyond the appliances themselves, consider implementing the following practices to help save energy:
Keep your refrigerator and freezer at optimum temperatures, and check regularly to make sure the dial hasn't been bumped

Be mindful of how much you open the oven, refrigerator, and freezer doors

Keep cooling units and heating units as separate parts of your kitchen
It takes time, and your staff will not be perfect at saving energy overnight. But, with proper training and the right focus, you can save energy and money in your commercial kitchen.
Work on Water Usage
It can be hard to change habits when it comes to working in a kitchen, but you can take steps to reduce your water usage. Flow restrictors, for instance, can help you use less water while accomplishing the same work.
Over time, you may also be able to work on employee habits regarding how long water is running and buy appliances that use less water overall.
Lower water usage saves your commercial kitchen money and helps the environment a great deal!
Consider Your Packaging & Food Waste
Do you use Styrofoam for takeout orders, leftovers, or for cups and bowls? If so, consider changing to a different packaging.
You can choose boxes, bowls, cups, and more that are made from recycled materials. You can also set up a recycling program for your restaurant. Not only will this help the environment, it is something you can advertise. Using sustainable materials and showing you care about the earth are great ways to stand out from your competitors.
When it comes to food, start to ask yourself, "Does this have to be thrown away?" Can you recycle, compost, or reuse leftovers?
Of course, you don't want to spend a lot of money on new storage for scraps that are waiting to be used, but see what small steps you can take.
Finally, consider donating any leftover edible food to a Little Rock charity like Potluck Food Rescue for Arkansas. You can help those who are less fortunate while also reducing waste and helping the planet.
It Pays to Go Green in Your Commercial Kitchen
Going green is an important thing to do as we continue to try to protect the earth we live on. It's also a great way to save money in your commercial kitchen.
Promoting your efforts to go green can help you stand out from your competitors and attract new diners. Are you ready to get started? We'd love to help you. Contact us today for a quote on Energy Star appliances and more!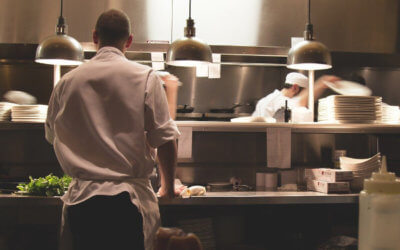 Tipton Equipment Restaurant Supply has a selection of kitchen equipment in Little Rock that will help enhance the menu of any restaurant, deli, or supermarket. Our span of kitchen equipment will help you keep up with growing consumer demand for fresh, high-quality...
read more