How to Clean Your Commercial Kitchens Refrigerator
July 22, 2019
For a restaurant or other food service operations, there's nothing more important than keeping the refrigeration unit tidy, clean, and well maintained. After all, the refrigerator is the heart and soul of any food-based business.
Getting Started
It may seem obvious but unplug the commercial kitchens refrigerator and remove all food before starting. Even if you're only using natural products, you don't want to be reaching around objects. Having an empty fridge makes the process so much easier and removes the possibility of contamination. Take out all removable parts, such as shelves and drawers. Fill a basin with warm water and regular dishwashing soap and leave these parts to soak before wiping and rinsing. Wipe all surface areas either with commercial wipes or with a combination of dishwashing soap and warm water. Use a microfiber cloth or a good quality sponge – these cleaning tools will not fall apart and leave little particles behind in the fridge.
Don't Forget the Coils!
Cleaning the refrigeration condenser coil is one of the most manageable refrigeration maintenance tasks you can do yourself, and it helps your unit run more efficiently. Try to do it at least every three months or whenever you notice significant buildups of dust and grease. Allowing a considerable accumulation of dirt and debris can lower a unit's efficiency, which uses more power, costs more money in operating costs and can shorten the lifespan of your equipment. It also can lead to compressor failure, and that can cost a lot in repairs.
Seals/Gaskets
In most circumstances, the only chemical you'll need to clean door seals with is manual dishwashing liquid. If the seals are washed and dried daily, significant bacteria or mold will not be able to form on the seals. If there are signs of buildup in your commercial kitchen's fridge, use bleach once or twice before switching back to dish soap. Many modern commercial refrigerators, including models from Polar Refrigeration, feature removable door seals which makes cleaning much faster and more convenient. Make up a simple bowl of warm soapy water and immerse. 
Keep your commercial kitchen's fridge clean and ready to go by instilling a daily routine.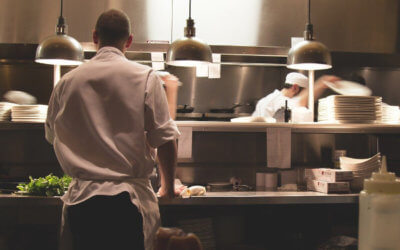 Tipton Equipment Restaurant Supply has a selection of kitchen equipment in Little Rock that will help enhance the menu of any restaurant, deli, or supermarket. Our span of kitchen equipment will help you keep up with growing consumer demand for fresh, high-quality...
read more