How to Reduce Turnover at Your Restaurant
January 21, 2019
Having the right employees can make or break your restaurant. You can have the best food and kitchen supplies, but tension in the back of the house can cause delays, poor morale, and even the loss of key staff.
You can have a beautiful dining room, but surly wait staff can drive customers away, demoralize the good wait staff you have, and cause the failure of your restaurant.
In other words, it's all about your people. Hiring the right people is a great first step, but keeping them is even more important. Here's what you need to know about reducing turnover at your restaurant.
Select Great Management
Whether you're the day to day manager or you've hired someone to take care of that responsibility, a good manager is vital to retaining the best staff. As they say, people don't quit jobs, they quit their bosses.
A manager who is hard-nosed may simply be hard to work for. This isn't to say that leaders have to be the employees' best friends, but it's important to be fair. Excellent communication and listening skills are key as well.
Finally, managers should help your employees understand the value of the jobs and encourage them to continue working toward their professional goals. This can help you develop your talent and keep your restaurant successful for years to come!
Invest in the Kitchen Supplies You Need
Sometimes a restaurant manager or owner thinks that running a profitable restaurant means cutting back on kitchen supplies. Forcing employees to make due with less doesn't make them resourceful, though – it just makes them frustrated.
Kitchen supplies – from smallwares to cleaning supplies to functioning cooking equipment – are vital if you want to run a successful business. Employees can make do for a short time, but ultimately if you show you aren't invested in the business, they won't be either.
Handle Toxic Employees
As they saying goes, one bad apple spoils the bunch. This is definitely true when it comes to retaining your key employees. Someone who is difficult to work with, sabotages others, is unfair, or otherwise makes work unpleasant can definitely increase turnover.
Someone who slacks off and doesn't do their work can back everyone up. Gossip, slander, and arguments can demoralize everyone and drive off customers.
Fortunately, you can manage a difficult employee. From providing awareness of the impact they have on others to demanding accountability, there are ways to either improve behavior or document unwillingness so that you can terminate.
Encourage Career Development
Unfortunately, too many restaurant owners and managers see their employees as lower-class workers who don't need professional development. Nothing could be further from the truth!
Someone who is working for you has dreams of their own. What are those dreams? How can you encourage and develop them? What experience can you provide?
Treating employees well – whether they're a long-timer or working through college – has tons of benefits. Not only will you get to keep your top employees, you'll get great referrals from existing staff to bring in new folks.
Someone working through college still adds value to your establishment while they're with you. Why not invest in them and keep them, rather than acting like you don't care if they work for you or a competitor?
Lower Turnover Leads to Higher Success
When you really show that you appreciate your employees, you'll do better as a restaurant overall. Even if fights don't happen in front of customers, diners can always tell when there is uncomfortable tension in the air.
When you take steps to be an awesome place to work, from getting the right kitchen supplies to providing great development, folks want to be in your restaurant – from staff to customers!
If you need help upgrading your equipment or getting new kitchen supplies, we'd love to help. Contact us for a quote today!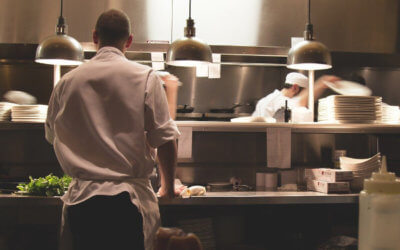 Tipton Equipment Restaurant Supply has a selection of kitchen equipment in Little Rock that will help enhance the menu of any restaurant, deli, or supermarket. Our span of kitchen equipment will help you keep up with growing consumer demand for fresh, high-quality...
read more