5 Decor Ideas for an Inviting Restaurant Feel
June 1, 2017
Great food and customer service are important parts of the equation that keeps customers coming, but the restaurant experience is not just about the food.
The best restaurants cater to every aspect of a customer's experience. The right ambiance is a must. This means the atmosphere and design of an inviting restaurant are as important as the dishes.  
A good inviting restaurant interior helps customers relax and enjoy their meals. An inviting interior design gives you another selling point in addition to the taste of your dishes. With the ideas below, you can have an interior design that attracts customers and makes them want to return time and time again.
Dim Lighting
Bright light can be distracting, whereas darker colors and low lighting can create the perfect setting for couples. Use dimly lit spotlights to create an intimate, romantic atmosphere. With this lighting theme, distractions fall away so that your customers can focus solely on their food and their significant other. Use dark hues, leather furniture, and dark wood to complement the low lighting for an exciting and inviting restaurant feel.
Featured Art
Art is a great way to make an impact on your guests! A striking art piece will keep your customers engaged and interested in their surroundings. It can also be an excellent conversational piece that helps your guests keep the talk flowing and fully enjoy their company. Think out of the box when choosing art for an inviting restaurant feel. It could be an interesting painting, statue or any other unique art piece.  Adding compelling artwork that complements your décor is a sure-fire approach to making an impact on your customers.
Luxurious Materials
To create the feel of a high-end inviting restaurant, you must choose luxury in every detail. An uptown ambiance will attract both the middle and upper class to your restaurant. Employ luxurious materials such as marble floors, copper features, ornate wood furniture and gorgeous leathers. Choosing quality materials will make your restaurant design a full expression of indulgence.
Communal Settings
Communal settings are a rare restaurant arrangement. Using this type of design will give you a unique appeal to customers who love being social. For a communal design, arrange the seating in a way that allows communication between strangers. This is a great avenue for your customers to meet new people.
Using larger tables and long benches, you can create this approach to seating. The unusual nature of this idea will make your restaurant the talk of the town in no time. However, you should note that not everyone wants to meet strangers over dinner. You should create another section for your more introverted guests who still want an inviting restaurant feel.
Be Minimalist
Keep it simple. Create a design that allows your customers to focus only on their food and company, and nothing else. Just let the inviting restaurant atmosphere be clean and relaxing. With this, you are using the striking settings to charm your customers.
An inviting restaurant interior will create lasting memories in the hearts and minds of your guests. With a great plate of good, friendly servers and a welcoming atmosphere, your customers will feel at home every time they walk through the door.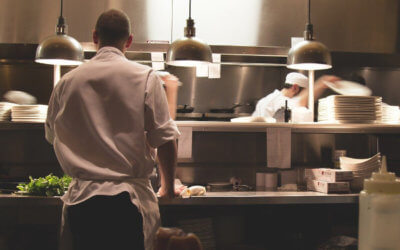 Tipton Equipment Restaurant Supply has a selection of kitchen equipment in Little Rock that will help enhance the menu of any restaurant, deli, or supermarket. Our span of kitchen equipment will help you keep up with growing consumer demand for fresh, high-quality...
read more