Keep Your Foodservice Equipment Coolers Clean & Functional
July 8, 2018
Whether you run a convenience store or a restaurant, you need safe storage for food that must be refrigerated.
Commercial coolers are the foodservice equipment you need – but it's important to keep them in good shape.
Otherwise, your investment won't give you the benefits you were looking for!
If you've ever seen an episode of Hell's Kitchen, you know how bad a walk-in cooler can get. Hopefully you're nowhere near those horror stories, but there are still important things to keep in mind.
Regular Cleaning Tasks
The first step is to make sure the cooler gets cleaned on a regular basis. It's important not to use harsh chemicals, but rather to use simple soap and water.
Regular wipe-downs of the walls, shelves, door gaskets, and floor of the cooler will go a long way to removing the bacteria that can make food spoil, your cooler smell, and more.
You also want to make sure that you and your staff turn off the cooler lighting when they leave. In fact, it's more than worthwhile to have an automatic light installed. Not only does a light waste electricity, it increases heat in the cooler which can increase the chances of bacteria and spoilage.
Once or twice a year, you'll need to make sure deeper cleaning of this vital foodservice equipment occurs. The evaporator and condensing coils should be cleaned twice a year. Hire a technician to clean the drain line annually as well.
Finally, once a year you'll want to empty the cooler, bring it to room temperature, and hose out the entire unit.
Avoid Common Mistakes
There are a lot of mistakes that happen when you're dealing with foodservice equipment like a walk-in cooler. For instance, it's tempting to turn the temperature too low to try to keep food extra safe. Unfortunately, all this does is overtax your refrigeration and shorten the life of your unit.
Also, make sure you don't rely exclusively on an external thermostat. Make sure there's a thermometer inside the cooler as well. This will give you a heads-up for when the external thermostat needs to be recalibrated, and it will help you avoid losing significant food in the process.
Finally, be sure to leave the space around the thermostat temperature-sensing bulb. If you stack boxes, shelves, or supplies around it, the temperature sensing may be compromised.
Maintenance to Extend the Life of Your Cooler
It's useful to have a checklist that you go through every quarter to make sure your cooler is in good working order. Here are some items to check:
Door Gaskets.

Make sure they look good and aren't cracked or damaged. You don't want cold air escaping – it costs money and makes it hard for the cooler to maintain temperature.

Debris.

All spills should be cleaned right away, and it's important to make sure debris doesn't block the door or prevent it from closing completely. Any time you have air escaping you're taxing the refrigeration and shortening the life of the foodservice equipment.

Visual Inspection.

It's important to look carefully look over the refrigeration unit and coils regularly. You want to look for compromises in solder joints, pipe clamps, and other equipment. Listen for any unusual noises.
During the hustle and bustle of a restaurant shift, it's easy for the cooler to be neglected. It's important to have specific processes and times that the cooler is cared for and brought back to order each day.
Take Proper Care of Your Foodservice Equipment!
At Tipton Equipment, we take pride in matching our customers with the perfect foodservice equipment for their store or restaurant. We want you to get the maximum benefit from your kitchen equipment.
Have questions? Are you looking for a new cooler or other kitchen supplies? Contact us today!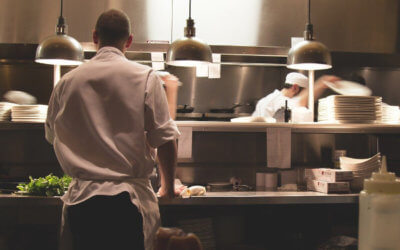 Tipton Equipment Restaurant Supply has a selection of kitchen equipment in Little Rock that will help enhance the menu of any restaurant, deli, or supermarket. Our span of kitchen equipment will help you keep up with growing consumer demand for fresh, high-quality...
read more