Cleaning Your Home Kitchen Equipment
November 13, 2017
Trying to find a more natural way of cleaning your kitchen equipment?
This includes your oven, your stovetop, your refrigerator, and basically anything that either holds your food or cooks your food. You might even have self-cleaning appliances, but you're not so confident about how clean it actually gets. Here are some ways you can clean your home with just water, vinegar, and baking soda.
Cleaning Your Oven Kitchen Equipment
Your oven takes one heck of a beating. Reward it every once in awhile by giving this piece kitchen equipment a good scrub down. If looking through your oven window isn't as clear as Mulan looking at her reflection, we need to do something about it. Instead of using harsh chemicals to clean it and leave residue on the food that you bake at home, mix baking soda and water. Open your oven door and pour it on the inside window and spread so it's even across the pane. Wait three to five hours and wipe it off. You'll see you're not only wiping away the mixture, but also the nasty grime that was on it.
Now you're ready for the real job. Go ahead and take out the oven racks and soak them in hot water and dish soap. Use the same mixture of baking soda and water and coat the inside of your oven. Now you are going to have to leave this mixture on overnight, or closer to the recommended twelve hours. When you're ready the next day, combine one part vinegar and to four parts water and wipe away the dried paste. Voila, your oven looks good as new!
Clean Your Fridge 
Unbearable smell coming from your refrigerator? It might be the leftover lasagna from a couple of weeks ago. The one that is definitely a different color than what it was when you first ate it. Instead of using bleach to clean the inside of your fridge, try using lemon water or water mixed with vinegar. Bleach and other cleaning chemicals could leave a lasting scent in your kitchen equipment, and you don't want that. An added plus is the lemon water will leave a refreshing, clean smell.
If after deep cleaning every nook, side, and corner of your fridge, leave a bowl of baking soda to absorb any smells that is persistent. It might not be a fast process for it to soak the scents, but it will happen over a day or two.
Clean Your Stove Top Kitchen Equipment 
Your stove top takes a lot of abuse. From splashes, spills, and chunks left on it from the meal before. Give it some love by giving it the makeover that it deserves.There is so much convenience when using all purpose wipes and counter cleaning sprays, but if you still want to steer clear of store bought cleaners, try this alternative. Use one tablespoon salt, one tablespoon baking soda, and one tablespoon water to create a paste to scrub away that dirt and grime. Make sure your stove is turned off, pull the coils out and scrub with hot water, and try not to get the electrical prongs wet. Let it dry and return it to the oven.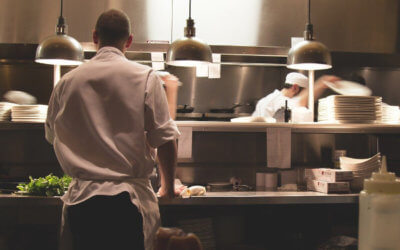 Tipton Equipment Restaurant Supply has a selection of kitchen equipment in Little Rock that will help enhance the menu of any restaurant, deli, or supermarket. Our span of kitchen equipment will help you keep up with growing consumer demand for fresh, high-quality...
read more