Maintain Your Kitchen Equipment with a Honing Steel
January 1, 2018
Every chef knows that a sharp blade is essential kitchen equipment.
Being able to slice through ingredients with ease means faster food prep, less strain on the hands and wrists, and a safer kitchen. When a knife is not honed, the extra pressure exerted on the knife, combined with the reduced control the user has over it, increases the chances of cutting fingers instead of food. This is why adding a honing steel to your kitchen equipment is just as important as having a good set of knives.
The honing steel, while being a handy piece of kitchen equipment, has a misleading alias. It is also called a sharpening steel. Contrary to what many believe, however, it doesn't actually sharpen the blade. A honing steel is an essential kitchen equipment item that is made of a ridged rod of steel. As a blade is pulled across the rod, the ridges move the tiny dents and irregularities formed during regular knife use back into position. This way, the sharp, cutting edge of the blade is aligned for perfect action.
Knowing how to use this useful piece of kitchen equipment properly is as essential as owning one. So, without further ado, here are our tips for honing a knife.
In one hand, hold the honing steel so that its steel tip is pointing down on a wood surface, such as a cutting board.

With your other hand, hold the knife so that the part of the blade closest to the handle touches the honing steel at a 20-25 degree angle.

Maintaining this angle, pull the blade gently upward and toward you. The whole length of the blade should graze the honing steel. Repeat about ten times on each side of the blade.
Knives should be honed daily to benefit both your kitchen staff and your restaurant's budget. By removing imperfections in the edges of your knives on a regular basis, you can make them last longer. Therefore, your honing steel is an important piece of kitchen equipment that maintains the condition of your knives.
Proper knife maintenance doesn't stop with your own kitchen equipment, though. Once every year, it is recommended that you send your knives to a professional for a true sharpening. Never mind extending the life of your kitchen equipment. The feeling of cutting through vegetables with a perfectly sharpened, perfectly honed knife is satisfaction enough!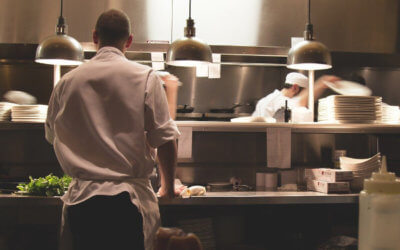 Tipton Equipment Restaurant Supply has a selection of kitchen equipment in Little Rock that will help enhance the menu of any restaurant, deli, or supermarket. Our span of kitchen equipment will help you keep up with growing consumer demand for fresh, high-quality...
read more