The Oven Starter Guide: Convection or Conventional?
January 8, 2018
Ready to get a new oven for your restaurant? This essential piece of kitchen equipment plays a central role in much of your cooking and baking, so it's important to choose something that's right for your restaurant's needs.
When it comes to ovens, one question frequently arises: "Should I choose a convection oven or a conventional one, and what's the difference anyway?"
Many people are in the dark when it comes to the best uses for each kind of oven. Well, today we're going to dive into it so you can decide which kind of oven should join the rest of your kitchen equipment.
The one feature that sets convection ovens apart
If you can't tell the difference between a convection and a conventional oven, you're not alone. In fact, both types of kitchen equipment are very similar. They each have a single source of heat (typically at the bottom of the oven), but convection ovens have one feature that conventional ovens don't have.
That feature? An extra fan and exhaust system. This system blows the hot air evenly through the whole oven during cooking. This gives rise to several benefits that many chefs love, making the convection oven a handy piece of kitchen equipment. However, it's not for everyone. Check out our convection oven pros and cons before deciding on your new kitchen equipment.
What We Love about Convection Ovens as Kitchen Equipment
Evenly cooked dishes.

Because convection ovens fill the entire space evenly with heat, commercial kitchens using convection ovens produce more evenly cooked or baked dishes.

Faster cooking.

The consistent heat and lack of cold and hot air pockets make convection ovens efficient pieces of kitchen equipment. Most dishes cook faster in a convection oven.

Food is crisper.

A convection oven's exhaust system vents moisture out of the oven, making your dishes nice and crisp. It's a great piece of kitchen equipment for cooking dishes like crisp vegetables, oven fried chicken and potatoes.
What We Don't Love about Convection Ovens
Convection ovens aren't perfect for every recipe. It's important to note this when choosing your new kitchen equipment. Here are a few downsides of convention ovens.
Irregular rising.

A convection ovens isn't the best piece of kitchen equipment for recipes that involve rising. The surrounding heat can cook the outside of your bread or muffins before they are done rising, resulting in bumpy textures and lopsided batters. A conventional oven is a better choice if you do a lot of baking in your commercial kitchen.

Drier food.

The venting system we mentioned earlier is great for creating crisp fries and vegetables, but it's not good news for moist foods like bread and soufflé. The lack of moisture within the oven can result in dried-out dishes. So if you cook dishes that need to rise or stay moist, a conventional oven is the best choice for your kitchen equipment.
When buying your next oven, think about the kinds of foods that make up your menus, and whether a convection or conventional oven is best suited to the job. Both types of ovens can come with electric or gas stoves, so you have the freedom of choosing what works best for you in both departments. If you need help deciding, we at Tipton Equipment are always happy to help.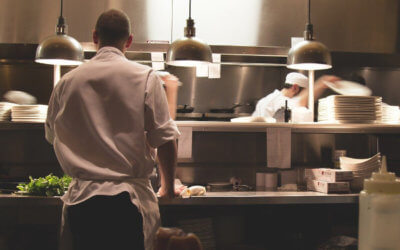 Tipton Equipment Restaurant Supply has a selection of kitchen equipment in Little Rock that will help enhance the menu of any restaurant, deli, or supermarket. Our span of kitchen equipment will help you keep up with growing consumer demand for fresh, high-quality...
read more