Outside the Commercial Kitchen: Food Safety While Catering
July 7, 2018
Many restaurants and other eating establishments like to provide catering for special events. Catering a huge business, worth over $53 billion per year.
Catering allows your restaurant to reach customers who might never set foot in your establishment otherwise. It's incredible marketing, and rather than spending money, you're making money!
However, if you want to make a great impression, you need to keep food safe. This requires some special equipment because you're not in your normal commercial kitchen. Here are the steps to take.
Avoid Cross Contamination During Prep
You may be prepping onsite, or you may be creating the food in your own commercial kitchen and then bringing it to the event. Regardless, it's vital to keep food separate and surfaces clean during the prep and cooking.
Use different cutting boards for different foods, disinfect and wash regularly, and ensure everyone washes their hands. Keeping food safe during preparation is the first line of defense for keeping guests safe!
Prepare for Careful Transportation
Keeping hot foods hot and cold foods cold can be most challenging during transport. Hopefully both your commercial kitchen and the catering location has heating and cooling equipment, but the vehicle on the way may not.
If you don't have commercial coolers to bring in a van or vehicle, make sure to pack cold food carefully with ice or frozen cold packs. Hot foot can be insulated so that it doesn't lose heat.
Be sure you take into account the temperature outside. On very hot days, cold food needs more attention, and vice versa. However, never assume that the outside temperature will keep a particular type of food safe. You need 145 degrees for hot food and 40 degrees or less for cold.
Have Proper Equipment at the Catering Site
Once you're on site, be sure you have the equipment you need. That includes chafing dishes, ice, and onsite refrigeration. You want to make sure that you know how much food is needed, so that only a specific amount of food is out at a time.
Of course, if there isn't on-site refrigeration or heating, you have a bigger challenge. Being outdoors is even harder. If you face these additional challenges, be sure to scout the site beforehand. Find out if you can bring portable equipment from your commercial kitchen and perhaps plug it in. Many park gazebos have at least one outlet.
Use Well-Trained Staff When Outside the Commercial Kitchen!
When you provide catering, bring your best – both in food and in staff! Your employees should be well trained in both hospitality and food safety.
Food temps should be measured regularly, and anything outside the safety zone should be removed promptly. At the same time, your employees should be excellent at customer service and soothing frazzled nerves.
You never know what's going to happen. When your staff is ready for every eventuality with poise and a smile, the catering event will be an incredible promotion for your business.
Do you need kitchen equipment for your commercial kitchen or catering operation? We'd love to help. Contact us for a quote today!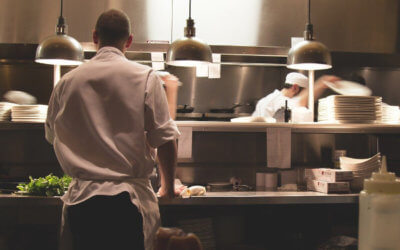 Tipton Equipment Restaurant Supply has a selection of kitchen equipment in Little Rock that will help enhance the menu of any restaurant, deli, or supermarket. Our span of kitchen equipment will help you keep up with growing consumer demand for fresh, high-quality...
read more