Reduce Food Waste: Proper Kitchen Equipment and More
August 14, 2018
Food waste is a reality in any commercial restaurant, but it doesn't have to be accepted blindly.
Too many restaurant owners or head chefs feel as though there is nothing they can do about this waste.
Fortunately, there's a lot you can do to reduce food waste in your establishment. This will save you a lot of money and you may even discover an innovative new dish in the process!
Here are some tips, including having proper kitchen equipment and more.
Pay Attention to Portions
Are your customers finishing their food, or does there tend to be a lot left? If folks aren't able to finish what you serve, you may want to consider reducing your portion size.
With smaller portions, you can buy less of your ingredients, saving you money. Your kitchen equipment won't be overfull and you may be able to reduce your prices a bit as well, which can bring in additional customers.
If you're concerned about complaints from big eaters, why not build one or two of your dishes just for them? You could call it "Bunyan's Big One" or something similar. You could also offer double meats or double portions, for an extra charge.
Have Proper Kitchen Equipment For Storage
If your freezer or refrigerator is getting older, you may find that it isn't keeping foods cold enough to avoid spoilage. You could also have cold spots and warm spots, causing items to freeze in the refrigerator or not stay fresh.
Another problem some restaurants have with their kitchen equipment is that it's not the right size to hold all the ingredients they need. Perhaps you get the best deal on a large amount of beef, but you can't store it unless you waste some.
If you face either of these concerns, upgrading your kitchen equipment is a top priority. Even getting high-quality used equipment can be perfect for your establishment.
Notice Ordering Patterns
Are there items are your menu that just aren't fast movers? If so, it might be time to revise your offerings.
Sometimes you have to maintain ingredients that don't sell often to address allergies or other dietary concerns. But other times a dish has simply fallen out of favor.
Taking it off the menu can help you streamline your ingredients and keep the back of the house moving smoothly. You won't have waste from expiring food.
Removing a dish from your menu temporarily is a way to spark interest in it as well. There's nothing like a "limited time" offer to spark sales!
Donate Food Waste When You Can
Sometimes there are things that you want to sell fresh, with same-day preparation. If you end up with leftovers, why not donate them to a great cause?
Organizations like Potluck Food Rescue for Arkansas can help you avoid waste by taking day-old items and other good food that would otherwise be discarded. You can also meet with a local Little Rock shelter or soup kitchen to arrange donations.
When you prevent food waste through using the right kitchen equipment, managing your menu and portions, and donating your extras, you'll be amazed how much better your restaurant will run. You'll feel great and be making a difference as well!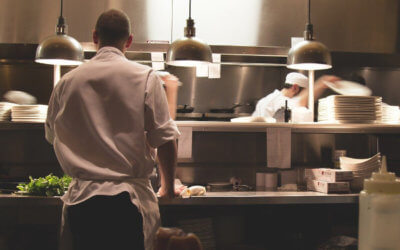 Tipton Equipment Restaurant Supply has a selection of kitchen equipment in Little Rock that will help enhance the menu of any restaurant, deli, or supermarket. Our span of kitchen equipment will help you keep up with growing consumer demand for fresh, high-quality...
read more