Keep Restaurant Equipment Safe: Proper Use of a Breading Station
May 7, 2018
Keeping food safe and sanitary is vital for any restaurant.
A lot foodborne illness isn't the result of the food itself, but rather a misuse of restaurant equipment that causes contamination.
A breading station is a piece of equipment that has a lot of opportunity for cross-contamination, since raw meat is used in it regularly. Make sure your policies and procedures reflect up-to-date safety standards and are strictly enforced.
What Foodborne Illness Can Do to Your Restaurant.
Your restaurant cannot afford to be known as the site of an illness outbreak due to carelessness. If negligence can be proved, you can be found liable for the sick person's missed work, medical costs, and even long-term health.
There will be a lot financial consequences beyond the illness as well. You could be subject to regulator's fines, increased insurance premiums, and may have to retrain your staff or close your restaurant temporarily.
In addition, you'll suffer terrible bad press that can impact earnings for months or even years. In fact, being known as the source of foodborne illness due to misuse of restaurant equipment can cause your business to fail completely.
Foodborne illness can also affect your employees. If a staff member gets sick due to poor food hygiene, you'll have to replace their hours and help others cover their work. You may even have to handle a worker's compensation claim.
Avoid all of these by posting and enforcing food safety rules!
Breading Station Safety
In a commercial kitchen, your fryer can include a breading station right in front of the basket. This type of restaurant equipment helps ensure safety by minimizing the transport of raw meat, as well as keeping meat off of counters.
The breading station should be a removable bowl or basin. The breading mix, perhaps flour and seasonings, is placed in the basin. From there your cooks add the food and deposit it straight into the fry basket.
The first things that all fry cooks should know is to never mix meats in the same breading bowl, and to never follow meat with a vegetable. The breading basin should be replaced or dumped out and thoroughly washed before a new product is breaded.
Between batches of the same meat or vegetable, the breading mix must be kept colder than 41 degrees F. However, breading mix should never be kept overnight.
To help enforce these policies, remind your staff that it's for their safety as well as the safety of the guests. It really does matter if you leave the flour out "just a few minutes" – anyone can get distracted. The kitchen manager should also make sure restaurant equipment and breading basins are clean and available so no one is caught short.
Get the Right Restaurant Equipment For Your Kitchen
At Tipton Equipment, we want to make it easy for you to find all the pieces your kitchen needs. We offer a wide variety of restaurant equipment, from grills to fryers to breading stations and more.
We'd love to help you outfit your restaurant with the best equipment available. Contact us today and let us know your needs!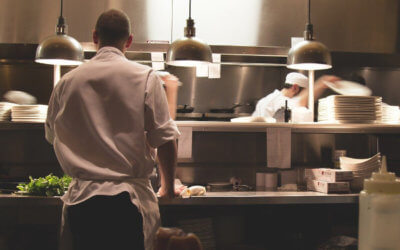 Tipton Equipment Restaurant Supply has a selection of kitchen equipment in Little Rock that will help enhance the menu of any restaurant, deli, or supermarket. Our span of kitchen equipment will help you keep up with growing consumer demand for fresh, high-quality...
read more