Restaurant Equipment Spotlight: Ensuring Safety in Your Restaurant
September 11, 2018
A lot happens in your restaurant every day.
You have people coming and going all the time. Your employees are constantly moving around, and customers are entering and leaving throughout the day.
Unfortunately, with all that activity, there's also a lot that can go wrong. Fortunately, having the right restaurant equipment in the front and back of the house can do a lot to protect people's safety.
Keep your restaurant moving smoothly by keeping everyone safe. Here's what to think about.
Make Sure Customers Don't Slip
You probably think a lot about how to ensure your employees stay on their feet, and that's vitally important. However, it's equally important to focus on keeping your customers on a sure footing.
There's a variety of restaurant equipment that can help keep customers safe. Start with non-slip mats in front of doors, including in your entryway if you have double doors. A lot of types of weather can cause slippage, and mats will help keep your restaurant floors cleaner as well!
From there, think about what kind of signage you need in case floors are wet inside your space. From mopping to spills, things can get slick. These signs help your employees avoid problems as well.
Ensure Employees Understand Food Safety
The other part of keeping your customers safe involves making sure your food safety is at a high level. This involves proper restaurant equipment for storage and regular training. Many times your staff knows what to do, but they take shortcuts. You'll want to have proper oversight in place to discourage this.
Sometimes compliance is easier if your team understands the impact of food safety. Cross contamination can cause customers to become ill or in extreme cases, die. Having allergens accidently added to foods that don't normally contain them can cause severe reactions.
Finally, your employees should understand how to handle their own illnesses. Having the flu or even a cold can contaminate food and make customers sick. Be sure they feel comfortable taking care of their own health – it will make a big difference!
Have Proper Disaster Response Procedures
No one wants to think about what to do in case of a disaster, but it's important to have the right restaurant equipment available and the right training complete.
What happens if there's a fire in the kitchen? Does everyone know where the fire control equipment is? Does your staff – even your newest server – understand to not put water on a grease fire?
Running through simulations regularly may seem like a waste of time… until there's an emergency. Having the proper response trained in for issues like fire, tornado, and other emergencies is vital.
Invest in Restaurant Equipment to Prevent Injuries
In the back of the house, there's a lot that can happen to hurt your employees. Make sure you have the restaurant equipment you need to keep everyone safe.
Well-made uniforms and aprons help protect your cooks from burns and spills. Slip-resistant shoes should be required for everyone. Gloves and safety glasses should be used as well, especially during cleaning.
If you're looking for the right equipment to keep your Little Rock restaurant moving smoothly and safely, we're here for you. From cooking equipment to safety signs, we can help you with everything you need. Contact us for more information today!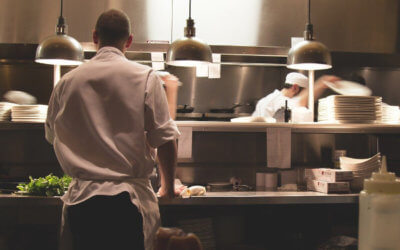 Tipton Equipment Restaurant Supply has a selection of kitchen equipment in Little Rock that will help enhance the menu of any restaurant, deli, or supermarket. Our span of kitchen equipment will help you keep up with growing consumer demand for fresh, high-quality...
read more