How to Keep Cool in the Restaurant Kitchen
August 15
Being in the kitchen, it's hard not to feel overheated, especially during the summer.
The heat of the stoves and ovens will quickly make the restaurant kitchen somewhere you don't want to be. How do you keep cool in the kitchen? We have brought together some of the best tips for keeping cool in the hottest area of the restaurant.
Air Conditioning in your Restaurant Kitchen
A lot of restaurants have air conditioning units in the seating part of their establishment but not in the kitchen. Many restaurant owners and managers believe AC is more important in the dining area because without it, less customers would want to dine there. However, AC is important in staff areas too – perhaps more important than many managers realize. Not having a proper air conditioning unit is a quick way to lose team members. Hot restaurant kitchens may also lead to on-the-job injuries, such as heat stroke.
Good Ventilation in your Restaurant Kitchen
Having your restaurant kitchen properly ventilated will help to dissipate the heat created by your kitchen appliances. Make sure that all stoves and ovens have ventilation units and that they are regularly maintained. That includes cleaning and inspecting. General heat vents can also help to get rid of some of the heat that you might be experiencing in the kitchen.
Hydrate Regularly
When working in a hot environment, your body is going to need to use fluids more quickly in order to keep your body functioning well. That includes your body being able to cool itself. Aim to drink between two to four glasses for every hour that you are working in a hot restaurant kitchen. This will help to maintain the proper temperature for your body.
Take Turns in The Walk-In
Taking turns getting supplies from and cleaning the walk-in fridge. This will give you the chance to quickly cool down. Try to take turns with the whole team so that it is distributed fairly. When you walk in to grab something, spend an extra minute in the walk-in and let your body temperature lower. Putting a chair in there allows employees to take a cool break, as long as they are clean about it.
Restaurants that take up this practice find that their walk-ins are cleaner, treated well, and even become a place cherished by the team members.
Moist Towels
Many restaurants have started to store moist hand towels in the fridge or freezer. These towels are then pulled out by staff members to put on their necks. The cold temperature on their neck helps to chill down the rest of their body. They can then swap out towels whenever their towel is no longer cold. Practices like these are best when picked up by the restaurant, so that employees don't need to bring towels from home. This way, the towels can be cleaned on site and reused by every staff member once cleaned.
Keeping cool in a restaurant kitchen is critical. It can raise efficiency and protect employees from heat-related health problems. Talk to your team members to see if they have any further ideas to help keep the kitchen cooler. They will often see areas that can be improved more than owners or managers, simply due to the fact they are in the kitchen more often.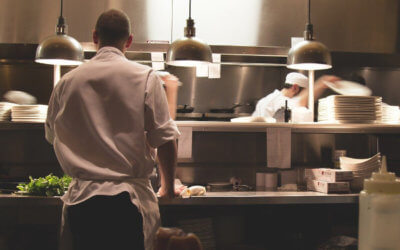 Tipton Equipment Restaurant Supply has a selection of kitchen equipment in Little Rock that will help enhance the menu of any restaurant, deli, or supermarket. Our span of kitchen equipment will help you keep up with growing consumer demand for fresh, high-quality...
read more