Top Restaurant Technology Trends in 2018
February 14, 2018
When looking to buy restaurant supplies, you want to be on the leading edge of technology trends.
This will keep your kitchen running smoothly.  Let's take a look at some of the most recent trends in restaurant supplies technology.
1. New Payment Options
Who would have thought that restaurant supplies would ever include mobile payment options and payment kiosks at each table?  One of the biggest restaurant technology trends is enabling mobile payment through custom apps, or through Samsung, Apple, or Android Pay.  Having kiosks at each table has also proven beneficial to many restaurants.  A good amount of diners think that payment kiosks improve their experience, as they allow parties to order, pay, and receive digital receipts right at their table.
2. Management for Food and Restaurant Supplies
It may sound out of this world, but your needs can now be predicted by software.  Cutting-edge software from companies selling technological restaurant supplies can use trends and orders to determine what people are likely to order and what kinds of restaurant supplies you will need to stock up on each night.  This can help you be better prepared to serve your customers. It can also help you stop over-ordering restaurant supplies and food, thus reducing your waste.
3. Guest Data Tracking and Analytics
The computer is an essential part of restaurant supplies today.  The multitude of software and apps available for restaurants give tech-savvy restaurateurs a special edge. When guests come in, you can record their favorite meals, where they like to sit, and their favorite drinks.  You can also track which days they visit so that you can have the restaurant supplies that you need ready for them.
Plus, who doesn't like being greeted by name when their server comes to the table?  Who doesn't feel a bit more special when the server already knows their favorite drink and "the usual" order?  A simple computer is one of the restaurant supplies that can increase your customer service ratings significantly, when utilized effectively.
4. Server Call Buttons
Whether you decide that you want to have a kiosk at your tables or a server call button, the ability to call a server to a table is key in 2018. With restaurant supplies that provide an electronic way to call a server, there is no more need for guests to earnestly try to flag down a server when he fleetingly walks past, or to feel ignored when the server doesn't see the guest. Server buttons have already been implemented in many restaurants. Those who are using them are seeing much more satisfied customers.
Modern technologies should be considered some of your most important restaurant supplies in 2018. Once a few restaurants catch on to a technology trend, everyone expects you to be on top of it. If you start adopting new technologies now, you could be seen as one of the most modern and convenient restaurants around!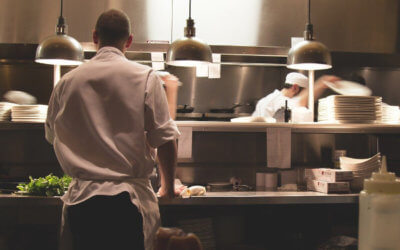 Tipton Equipment Restaurant Supply has a selection of kitchen equipment in Little Rock that will help enhance the menu of any restaurant, deli, or supermarket. Our span of kitchen equipment will help you keep up with growing consumer demand for fresh, high-quality...
read more