The DIY Guide to Your Restaurant's Own Garden
January 19, 2018
Stocking your restaurant supply with your own home-grown herbs and produce can truly bring your dishes to life.
When it comes to food, everyone knows there's nothing like homemade and home-grown. Having your own culinary garden, however large or small, can help you build a reputation for creativity, fresh food, and environmental consciousness.
Are you curious about making your own garden a source of your restaurant supplies? We'll tell you how and why.
Why Grow your own Restaurant Supply like Herbs?
        

Always stocked

– When your restaurant supplies are home-grown, you won't have to worry about recalls, shipping delays or shortages. If you maintain it well, you can walk into your culinary garden and take what you need any time you want.

        

Fresher, richer, bolder tastes

– From the time herbs are harvested to the time they end up in your dishes, they lose their flavors. When your restaurant's supply of herbs is just feet away, your dishes come alive with the strong flavors retained in the fresh herbs.

        

Inexpensive ingredients

– Along with all the other benefits, growing your own herbs and produce is cheaper, too!

        

Better for the environment

– When you add homegrown produce to you restaurant supplies, you're cutting down on the packaging and carbon emissions that would have been created by the transport of produce to your restaurant.

        

Beauty and novelty

– A culinary garden can double as beautiful landscaping that increases the beauty of your restaurant. Customers will enjoy both the aesthetic appearance and knowing exactly where their food comes from.
Where to Plant Your Garden
If your restaurant has a yard, you can build your new culinary garden right out front to beautify your store entrance. Alternatively, you can plant it behind your kitchen for easy access to those fresh, leafy restaurant supplies. If you don't have a yard, though, you can still find plenty of space for a small garden. Take advantage of window boxes, planters, and rooftop gardens, for example.
You don't need to worry about your new source of edible restaurant supplies getting overgrown, either. As long as you're using them in your cooking (and you certainly should be!), the plants will stay small.
What to Plant in Your Garden
If you're short on space, you can plant multiple different herbs together in one bed or planter. Make sure to plant herbs that require similar growing conditions together. Herbs like rosemary, lavender and thyme need drier soil and plenty of sun, whereas other plants need plenty of water and more shade. Check the growing information for the herbs you wish to add to your fresh restaurant supplies, and match them up!
Also consider adding fresh fruits and vegetables to the mix. For small gardens, plants like tomatoes, cucumbers and green beans will maximize your space, because they can be trained to grow vertically up trellises. Low-growing fruits, like strawberries, can also make great additions to small gardens. Imagine juicy, fresh fruit being part of your own personal restaurant supplies.
To brighten up your garden or your planters, you can add flowers – but they don't have to be just any kind of flower. Edible flowers like violets and roses can add color to your surroundings. At the same time, they can act as a beautiful and unique touch as a garnish or ingredient in one of your signature dishes.
Homegrown herbs and produce are truly wonderful and versatile way to stock up on the fresh ingredients on your restaurant supply list. Whether you want to start small or jump right in, we encourage you to try this little touch that will make your restaurant even more special.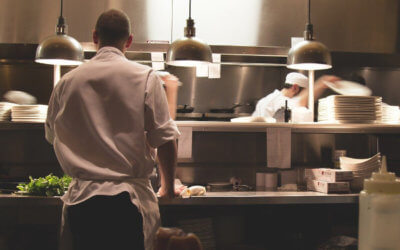 Tipton Equipment Restaurant Supply has a selection of kitchen equipment in Little Rock that will help enhance the menu of any restaurant, deli, or supermarket. Our span of kitchen equipment will help you keep up with growing consumer demand for fresh, high-quality...
read more