How to Make Your Silverware Sparkle and Shine
June 1, 2017
No one wants to eat off of dirty or tarnished silverware.
While it's easy to clean silverware of leftover food, the tarnishing will still linger unless you take steps to make your silverware shine. To make the best impression on your guests, your silverware should not just be clean. It should sparkle. There are detergents that can get back the sparkle of your silverware, but you can also use common ingredients from your restaurant kitchen to make them shine.
Alcohol
Alcohol may also be used to clean tarnished silverware, but it has one limitation: it may not be effective for heavily tarnished silverware. To utilize this method, mix four parts water with one part rubbing alcohol. Using a soft cloth, dip into the mixture and wipe your silverware until you achieve a sparkling surface.
Salt and baking soda
An effective way to achieve sparkling silverware is the use of aluminum foil, salt and baking soda. Line a bowl with aluminum foil and add a teaspoon each of salt and baking soda to a cup of hot water. You can increase the amounts depending on the amount of silverware to be cleaned. Fill the bowl with boiling water and add your mixture and silverware, ensuring that the silverware is not overlapping. You can also add half a cup of vinegar to the mixture to speed up the process.
This method is quick. Depending on the level of tarnishing, you may leave the silverware to soak anywhere between 30 seconds and several minutes. When the silverware looks tarnish-free, pull it out using a tong, as the water will still be hot. Buff it and dry it well. And you're done!
Baking soda alone
If you're running low on salt, you can use baking soda by itself – it will just take a bit longer. Cover the silverware with a generous amount of baking soda. Now is the time for patience. Let the silverware and baking soda sit for at least 30 minutes. After this time, any stains will be ready to come off easily. Scrub the silverware lightly with a damp cloth or sponge, rinse it and buff it.
Boric acid can also be used for this method instead of baking soda. However, boric acid, also commonly known as Borax, has recently been found to cause reproductive and developmental health problems in women and children. To protect the health of your valued customers, stay away from the use of boric acid.
Of all the methods listed, the quickest and most effective is the use of baking soda, aluminum foil and salt. You should be aware that aside from your usual cleaning detergents, a number of basic or acidic kitchen products, including ketchup, aluminum foil, toothpaste, baking soda, borax, salt, alcohol and vinegar, can perform magic. If you're in a pinch or want a more eco-friendly way to clean your silverware, just look around your kitchen!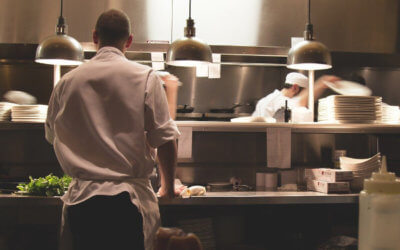 Tipton Equipment Restaurant Supply has a selection of kitchen equipment in Little Rock that will help enhance the menu of any restaurant, deli, or supermarket. Our span of kitchen equipment will help you keep up with growing consumer demand for fresh, high-quality...
read more