5 Unique Restaurant Concepts Guaranteed to Thrill Diners
August 15, 2017
With restaurants on almost every block, having a unique restaurant concept can help set you apart, making your establishment stand out.
These concepts may have taken a bit to catch on, but they have quickly become popular sellers. Here are 5 unique restaurant concepts that we just love.
1. Cat Cafés are a Unique Restaurant
Cat cafés have been popular in Japan for ages but are just starting to take hold around the world. The concept is unique but in all reality, simple. Who doesn't like drinks? Who doesn't like cats? Why not combine the two? That is exactly what a cat café does. These cafés offer drinks of all kinds while giving customers the chance to pet and interact with adorable cats. In many cases, these cats are adoptable so the café plays two roles: café and adoption center.
2. Unique Restaurant that are Pitch Dark
A unique restaurant believes that the appearance of food and a restaurant takes away from the actual taste. Removing lighting from the environment helps to ensure that patrons fully enjoy their meals. Eating at these restaurants may take some getting used to, but they do enhance the meal. Science (and experience) has proven that losing some of your senses will heighten the rest, including taste.
3. Unique Restaurant that has Chef-Chosen Meals
Imagine going into a restaurant and not being handed a menu. This is a concept that a lot of people have a hard time grasping. They lose control of their meal, but it may be for the best. A  unique restaurant type that has popped up around the world where the chef decides what their guests are going to eat. Every day, the chef will come up with a set of meals he will cook throughout the day and will pair side dishes and drinks to that meal.
4. Vegetable Dishes
Creating meals completely from vegetables that will satisfy customers? Not possible! Or is it? A unique restaurant that creates their meals out of vegetables have become very popular. Moving away from fatty options means eaters do not have to count calories when they order. It also caters to a lot of people who have dietary restrictions. You may think that the food wouldn't taste good, but it is amazingly delicious.
5. Unusual Locations for a Unique Restaurant. 
Forget unusual food…a growing trend in the restaurant business is to come up with a unique restaurant location. A tame idea for an unusual location is a bank vault. Try sitting down behind a massive door in an upscale restaurant. More adventurous ideas include a restaurant that is suspended above the ground, a completely underwater restaurant with glass walls, and a restaurant that requires a boat to get to.
A unique restaurant makes dining more than just a food experience. They make it a meal that your customers won't forget. Come up with a unique restaurant concept and your diners will appreciate you greatly.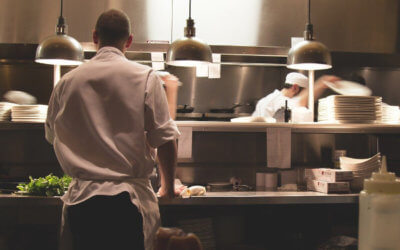 Tipton Equipment Restaurant Supply has a selection of kitchen equipment in Little Rock that will help enhance the menu of any restaurant, deli, or supermarket. Our span of kitchen equipment will help you keep up with growing consumer demand for fresh, high-quality...
read more