Choosing the Right Material for Your Cooking Equipment
December 31, 2017
Kitchens are very unique to their chef.
Just like a car mechanic has a toolbox unique to them, so is the cooking equipment in a kitchen. And over time, the same cooking equipment become a natural extension of the chef. What tools are you using in your kitchen? It doesn't matter what your cooking skills are, but it does matter what tools you use. Tipton Equipment Restaurant Supply is ready to equip you with the essentials you need for your kitchen and dining experience. Not sure which material you need? Let us help.
The Chopping Block
No kitchen is really complete without a knife. There are many different shapes and curves on a knife blade, but how about what they're made of? Stainless steel knives are the norm for cooking equipment. When you think of professional chefs like Gordon Ramsay, you imagine him wielding a stainless steel knife. Just like any other cooking equipment, there will be maintenance. That means consistently sharpening your stainless steel knife. Ceramic knives on the other hand are an option against the norm. Ceramic knives are made of very strong, durable, and dense material. It's dense characteristic makes it less porous and more resistant to bacterias and germs. And you won't have to worry about a ceramic knife rusting.
Pots and Pans
Using cast iron pots and pans feels just like you're at grandma's house. Cast iron cooking equipment is perfect for any skill level, and they're affordable. You can easily find them at garage sales, or new at grocery or convenience stores. A good reason to keep them around is because they're great nonstick pans with the proper upkeep. And the more you use it, the better it gets. Cast iron cooking equipment also heat evenly, so you don't have to worry about hot spots. You probably grew up using stainless steel pots and pans. The ones that clang together and made unbearable noise when you stack them in a drawer. Stainless steel cooking equipment is so common in households because of their availability and versatility. It doesn't matter what you heat your stainless steel cooking equipment on, or what you are cooking in it. Have you seen the latest trends about copper cooking equipment? You are more likely to see it on infomercials or on the Home Shopping Network. What's so good about copper cooking equipment? It's almost like getting the best of both worlds between cast iron pots and pans, and stainless steel pots and pans. You have great versatility, and great heat conductivity. You might notice that copper cooking equipment scratches easily. Luckily that does not affect it's cooking properties.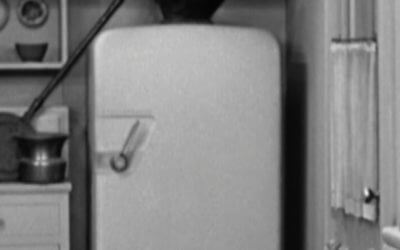 Welcome to our new series, "Roast and Toast"! Each month we'll feature one kitchen that we love and one that… well, could use improvements. The kitchens we feature can come from anywhere – TV, films, popular culture, you name it. We'll talk about what we love and what...
read more