Top 6 Movies for Restaurant Owners
June 1, 2017
The movies that connect with us on a personal level are the ones that linger in our memories forever, especially when it deals with food and the drama in a commercial kitchen. 
Achieving that level of intimacy in the fictional world of movies is easier said than done. For those who are passionate about the culinary arts, it is even harder to find a portrayal of a commercial kitchen.
There are so many movies that you can relate to if you are in high school, a secret agent or a worn out wall street investment banker. Even with over 14 million people working in the food industry in the United States, finding a movie that truly captures the restaurant experience is a bit rare. Nonetheless, there are few great movies that will appeal to those in the restaurant industry. These 6 movies that will make you remember what you love about owning, working in, or managing a restaurant.
Chef (2014)
This movie will make you feel special if you belong to the restaurant industry. Jon Favreau plays the role of Chef Carl, a food truck entrepreneur (pretty much a commercial kitchen on wheels). Despite hateful critics, Carl carries out his passion for delivering great food to his customers. It is an inspiring story of the amazing results that can come from being in the business for the right reasons.
Big Night (1996)
Don't look down on Big Night just because it's older. This movie is a big one. With its comedic undertone, the two brothers running an Italian commercial kitchen will remind you of the one big night that you loved in your restaurant. You will find it easy to relate to this movie if you love what you do.
Burnt (2015)
In the most recent movie on our list, Bradley Cooper goes up against strong competition as he strives for a comeback in the restaurant industry. He partners with Sienna Miller, and together they are led by their passion to raise their game in their commercial kitchen. If you have ever started your own restaurant, you will certainly relate to the obstacles and the drive it takes to overcome them.
Spinning Plates (2012)
If you need motivation, inspiration, and insight about running a restaurant, this is the movie for you. You will be able to compare three restaurant owners in terms of their approach to business. One lesson you will pick from this movie is the great importance of teamwork in running a commercial kitchen.
No Reservations (2007)
Change can bring about mediocrity if you do not know how to respond. If your personal life is clashing with your professional in the restaurant, turn on No Reservations. This movie will brace you for the many challenges of running a commercial kitchen.  
Hundred Foot Journey (2014)
This is a story of two very different people that learn to work together. Even though the two families are cooking healthy foods for their customers, they are in an unhealthy feud. Even if you are not working in a commercial kitchen, you will see a reason to watch this movie more than once.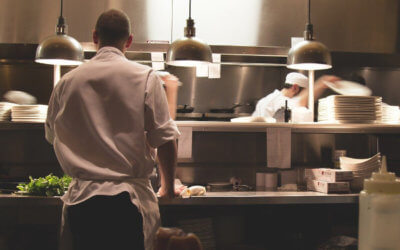 Tipton Equipment Restaurant Supply has a selection of kitchen equipment in Little Rock that will help enhance the menu of any restaurant, deli, or supermarket. Our span of kitchen equipment will help you keep up with growing consumer demand for fresh, high-quality...
read more